DIY Crochet Cushion Cover
It really feels as if many of our folks and fellow subscribers have started taking it for real, I mean they are repeatedly asking us for some detailed demonstrations as they are desperate enough to give these crocheted projects a try at their own. If this is so then this is something very encouraging. Looks like we have started getting the yield already. Come on ladies, all of this adorable knitted stuff belongs to you, you are no longer kept in dark or any hidden secrets. All is revealed and unleashed here for the good, you just have to rush forward and grab it.

Okay, so now we are talking about a DIY crochet cushion cover. And many among your would be like what, a crochet cover? Yes man you heard rather read it right. That's exactly what I am talking about. Who would say that she doesn't need one for her house?

Now I guess all seem to be agreeing right? Okay, the inspiration is right here, and for a good reason you are given the whole detailed demonstration. Even the beginners would be able to grasp the whole main idea out of this detailed graphic demonstration.

This would be just like our fellow crafters are going to hold your hand and going to let you know each step in a certain sequence to make you understand that how the things are going on. Just like this basic step where you have to deal with the crocheted flowers fixed in each middle of the square.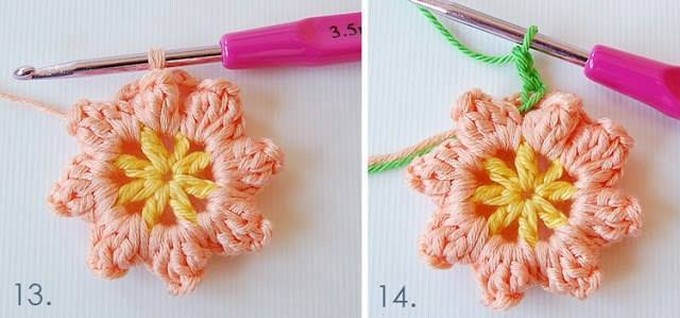 Do you see this turning green crochet thread? And how exactly it is being turned and hooked with the crochet sticks? This is the second closing circle around the base flower, simple single round stitch pattern is being applied here for the good.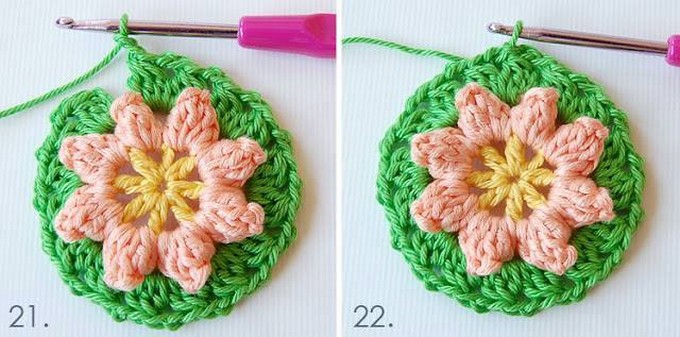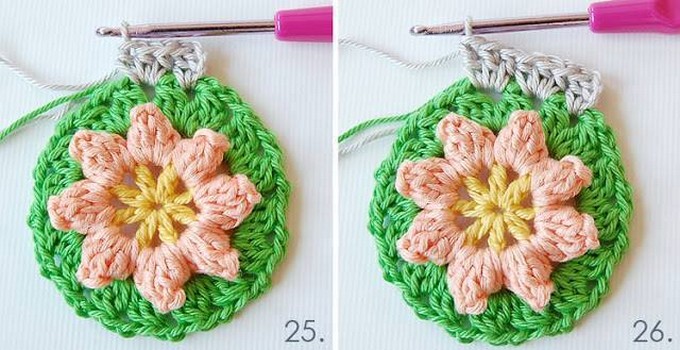 After that light green thread shade we see the off white or grayish shade being added in the project. This circle is again meant to go in the same flow like following the same stitch pattern that we have used so far in the rest or the inner circles.

But this time we have to shape it like a good big square and not the circle actually. So for this you have to attach the each good corner of the inner green leafy part with the outer grayish circle and this would automatically get a shape of a square.

Once you are done with the prime and probably the most difficult part, like making the flowers where you had to deal with multiple thread shades, now it is just like you are done with the chunk or the major part of the project. You are almost there lady.

In the rest of the part you just have to make that straight and simple single round stitch pattern and complete the project. Trust me in the end you are just going to be overjoyed with the stuff that was done at our own. You are really going to adore this cushion cover.

Purchase Inquiry / Created & Shared by: Crochet is an art