20 Inspirational Eye Candy for Crochet Shawls
The main benefit of the yarns and crocheting is that they offer warmth and they are best to use in the winter season as they help in keeping the body warm and away from the cold weather which can leave a person sick. It is best to crochet the shawls for the kids as well as for the adults because they look stylish as well as keeps the person protected from the illness that is caused by the cold breeze. The crochet shawls look attractive when yarns of multiple funky colors are utilized for crocheting them.
The shawl is adjusted on the mannequin to show how it looks; the color combination is perfect for the adult because dark color looks more amazing for the adults. The cap is created attached to the shawl to cover the head to stay warm.
The crocheted shawl of light and dark pink color looks good when it is used for covering the upper part of the body with the pants of blue color. It is big enough to be used by an adult and the design with which it is crocheted is unique.
Here is shown a crocheted shawl full of dark colors that are complementing each other and giving an awesome overall look. The shawl is long in length and it is covering the legs from the back, it is created with the space for the arms to perfectly fit on the body.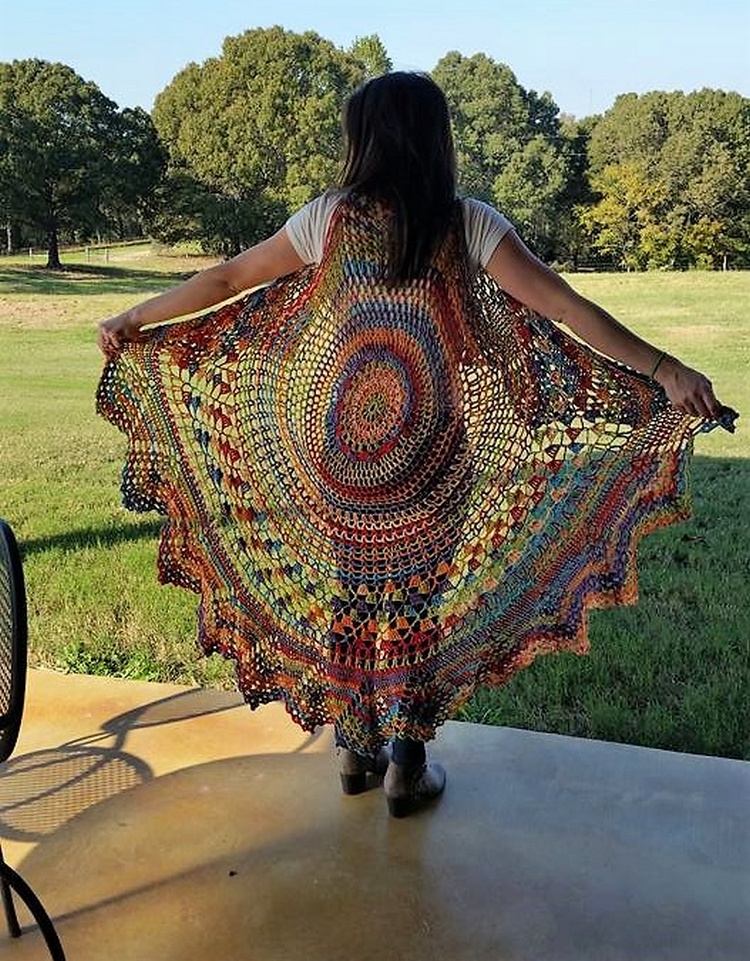 The rainbow colored crocheted shawl is presented here, it covers the same area from the front and the back. It is not a difficult task to crochet and it is a good idea of the color combination for the kids because it gives a funky look. For the adults, the yarns of sober colors look appropriate.
Crocheting shawl with the light pink color keeping this idea in mind is easy, a little bit of skin and white is used for crocheting the border which is adding color to it. It is a good idea for the fulfilling the warmth need of an adult.