Hello all the adorable ladies out there, I need the attention and consideration of you all as I have brought something of your interest as I am pretty sure that the men would be least interested in the jewelry like stuff unless they have to pass it on as a gift to their girlfriend or maybe the wife or whosoever. How many of you are sick of the typical jewelry items especially necklaces? Do you want to feel light while putting on a splendid necklace? So here is something that you actually need and can't figure out what exactly it is, well, this is a crochet necklace that you need.
I guess this would be a very unique and new idea for many out there, but don't be hesitant you pretty ladies this is something that is getting trendier with every passing day. Even the fashion icons are promoting this cheap yet elegant idea.

What about these dotted circles made purely with crochet thread, I think this would just go perfect with any of your casual dress. You can carry this even with the tees and jeans simply. Just look at the crazy combination of shades that are put to use here.

Just imagine how much expertise would be needed to execute such a smart crochet necklace idea I mean this is not at all a simple and plain crochet plan where you just have to make a simple patch, these floral additions and frills are so damn hard to deal with.

The crochet made necklace which is already a very light accessory that could be used as a full fledge substitute of a proper necklace, that is made even lighter here where just these flowers along with leaves are designed for your slim neck, it would comfort you while wearing.

While this one is a pure reflection of some typical art crafts. It seems like this is made by some fanatic of art who believes in the full depiction of art in its true letter and spirit. A touch of beads would help you giving it a conventional sort of look.

Pink is my daughter's favorite color and I am sure if she would see this one she would be yelling to grab this one although she is not the age to put on stuff like this. I think this must be given a try on some casual attires.

I would just like to say wow, this seems like the pure natural roses were plucked from the garden and pierced into this marvelous piece of art, but let me remind you that this is all done with pure crochet. Just some reclaimed beads were added in the idea to increase the delicacy.

I guess making this sort of crochet necklaces is always easy as here you have to make a slim and smart string that would carry these embellishments that are added on both sides and the middle. The color combination is also very smart and considerable.

I think this range is getting better and better as we are rushing forward, I mean just look at this beauty made with crochet. This has got such a color combination and style that it could be carried with both formal and casual apparels. There is something unique about this one that is just beyond the comprehension.

Awwwww…. This one is really amazing, seems like a perfect piece of artificial jewelry made with some of the finest accessories. These perfectly crocheted squares are going to be matching with every dress you put on, this is simply gorgeous. I think the teens must try it.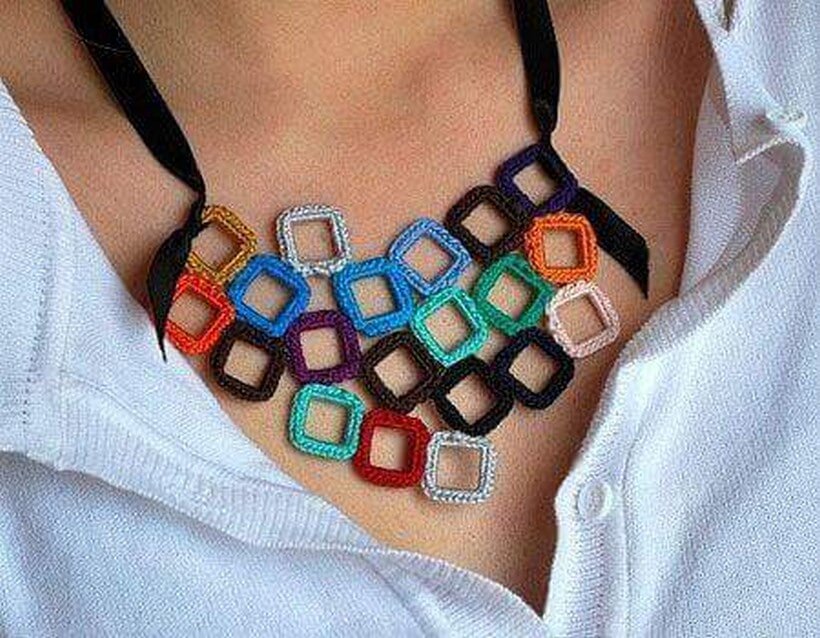 Well, before you get started on this journey one thing must be very clear that all of these crocheted necklace follow some of the toughest patterns that aren't at all simple like making a simple blazer or a boy hat so first enhance your skills and then set out on them.

Now this one is perfectly a formal crochet made necklace that you must try on some formal gathering because it has got some heavy work of crochet that despite of its too low weight makes it look pretty heavy, so this must be tried along with formal attire.

Again this is something casual. I guess making these simple flowers isn't that hard who have been into crochet stuff since long, but probably the thing that matters the most is the fineness, thread you use and last but not the least is the color combination for sure.

This one is a whole round neck collar that is worn differently, this side brooch style would really look very elegant when put on some designer's collection as it has got a pretty formal touch so the occasion must be appropriate when you intend to put on the crochet necklace like this one.

Again this is a round collar crochet made necklace, it has got a very stylish binding lace and a whole wide one and a half inches wide stripe covering whole of your neck. This would fit any neck size irrespective of the thickness and other fitting factors.

If you like these shining pearls and beads and the stuff like this, a touch of these supporting accessories is always very welcomed and really compliment the crochet creation provided you have done your proper home work on the color combination of both different materials. As here these dark purple beads really go well with turquoise and white thread.

Well, here the flowers are over stuffed and the colors are also used generously. Just ponder upon the color scheme I guess you would find each and every shade that is normally available in common thread range. This kind of multi colored goes with any age and dress as well.

While this one seems like a perfect woman tie covering the whole of the neck and meanwhile preventing the cleavage to maintain the elegance. A bold touch of shocking red with the bright white shade gives it a perfect look.

This is something that could be named as a perfect crochet made necklace as it has got all the essentials like it has got the beads and pearls and the stuff. Don't get confused for the bell shaped objects, we actually crocheted the whole beads using as the filling.

And just see, here we have got not only a delicate crochet made necklace but we have also got a matching bracelet here too. How do they look together? I think this is the perfect combination so far. Little tulips on a multi layered chain of crochet, a superb pattern.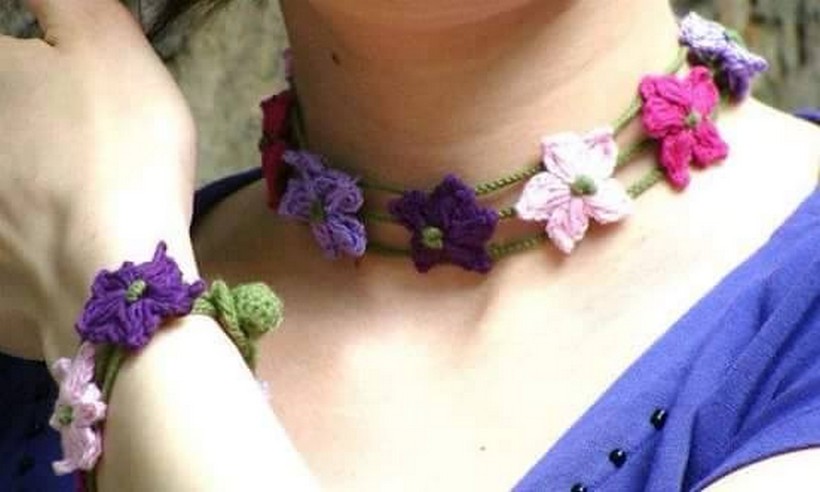 And here it feels as if the supporting accessories are in a larger ratio as compared to the crocheted part, we can see a lot of pearls and beads and tiny stones all attached to the necklace, some of them are covered with crochet thread, this makes a great amalgamation of art and skill.

And this one seems like a perfect bucket handle, but the stuff on the bottom is a bit too heavy yet you must not get worried that after all this whole material is simply thread that would weigh in not more than a few grams at all.

Again this one is so cool, this seems to be inspired from those thin metallic strings pierced with various stones and beads, here we have replaced those accessories with crochet made embellishments. Each tiny circle is carrying multiple shades. You can button up the necklace to make it erect firmly.

Another scarf shaped crochet necklace is here. In this one we have refrained from some unwanted additions and we have deliberately tried to keep is as simple as possible and very eye catching. We simply added a couple of buttons and in the rest part there are just multi layered strings made with crochet.

These tiny white tulips are so soothing to the vision and literally look to be the real ones but this is really hard to make them with so much accuracy and fineness. These sharp stitches are very hard to perform really. This silken strip has enhanced the beauty of this simple necklace further.

Here we have to mainly focus on the stitch pattern of the string that is studded with these flowers, that is pretty thick. It isn't that case that we have used some padding or packing inside the string to keep it that thick but this is a certain stitch pattern that was followed here.

I am not sure that how many of you would still approve this extra long extensive necklace made with same crochet thread, but I guess this would just look perfect when you are on some sightseeing trip or on vacation to some Malaysian beach or somewhere.

Again this is some heavy stuff that must be used accordingly like you cannot just put on this one on a simple tee and jeans or some other casual dresses, for this you need a proper dress and proper occasion as well or it would simply look weird.

This kind of light crochet made necklaces are wide acceptable on a variety of apparels as they carry multiple shades and meanwhile they are very lightly toned. In making such creations the thing that counts the most is the thread and its shade ofcourse.

How many of you like this dark shade of green? Well, I am not sure that this specific shade is liked that much in the masses, yet I would recommend focusing on the pattern and the style. This offers mixed sort of touch like casual and formal at the same time.

From a distant look this necklace would look like being made with all those typical accessories that are usually employed in making such jewelry stuff, but having a closer look you would realize that all of this is purely crochet work and the just a minor touch is introduced in a couple of crocheted circles.

All of such artistic creations just begin with a smart idea and your potential creativity. There are a couple of factors that must be observed to give it a perfectly professional touch and to avoid any amateur touch, once you overcome these tiny mistakes you become a mentor crochet crafter.

Wait a minute, is it an illusion? Not at all, this is a phenomenal piece of crochet made stuff that is simply out of this world I would say. This foil of layers and layers inside out, this really would have been a tiring and stressful work but in the end it was all worth it.

Okay, these lighter toned crochet necklaces have always been easy to deal with. They don't need any harder patterns or any difficult stitch patterns at all. Even a single synthetic button made it look exclusive. This must be carried along a nighty or a smart maxi.

From the glimpse of this crochet necklace this would be hard to find out what material is exactly used here, but if we concentrate this is pretty simple to figure out that copper buttons are used here for piercing, and the thing strings were obviously made with crochet.

You can try all of these designs matching to your personality or mood and even you attire. These crochet necklaces won't require much time and in a couple of hours you would be ready for the event carrying a very unique crochet made necklace which would be a certain grabber.

After a long time we have headed towards these fine stones, and they really look awesome being used in the crochet made necklace. These stones are literally matchless in appearance with any other stuff like the beads and pearls. They would just make you stand out of all the gathering.

And sometimes these ring oriented embellishments would create a huge difference as this is always unique and distinguished to go for such creative ideas to give yourself a better look. These crochet made necklaces are cheap, they are handy and would give us a perfect match with every dress that we carry.