Free Patterns For Crochet Shawls / Wraps
I guess I really don't need to give any details to you guys regarding the shawls or wraps. I am sure you all ladies are familiar with them, but how many of you have tried to knit or crochet them ever before? Isn't this a really exciting idea? Just imagine that you are carrying multiple shawls for each dress you carry every day, and the good thing is that you have crocheted them at your own, so they are also very economical too? We have compiled this list carrying various free patterns for crochet shawls or wraps.
# 1
Let me please begin with this ravishing savvy ruana, no matter where exactly you are heading, this is some part or a get together or a simple day out on shopping, I am pretty sure that you are going to love this particular shawl. This is so big that it would easily cover almost half of your body including the arms shoulder and neck. The color that we have opted for this ruana is very fascinating like this is such a sort of shade that would complement any color that you are carrying as your dress.
# 2
While this one borrowed from the drop design is a shawl that carries multiple colors and the common thing among them all is that they all shades are pretty dull. We have discussed this matter in some of the earlier knitting projects that these dull shades are especially associated with the winter season. While the darker shades are relatively considered to be good in the summer season. The stitch pattern that is used here is also very handy and also not a large amount of yarn is going to be consumed here. But have to do justice with the proper color selection or else it won't look that cool.
# 3
This crochet rory shawl is again consisting of very dull shades and I would rather call it be something more of a classic and typical stuff. And if we do have a closer look we would realize that some stones are also used in it for the further embellishment. And the best thing is that this would hard to believe for you all ladies that this whole shawls is made of one single shaded yarn, isn't that a strange thing and hard to believe? Well, you would explore the rest of the things in the given details.
# 4
This is another pattern borrowed from the drop designs and this particular is named as the flamingo one. Sounds interesting so far right? Also count on the design and the stitch pattern too that apparently seems to be pretty simple and handy, and another good thing about this shawl is that you will not need to go through various thread shades and matching and stuff, you just have to pick one shade out and start working on it. If you still want to have some more details on this, we have got them right in the link below.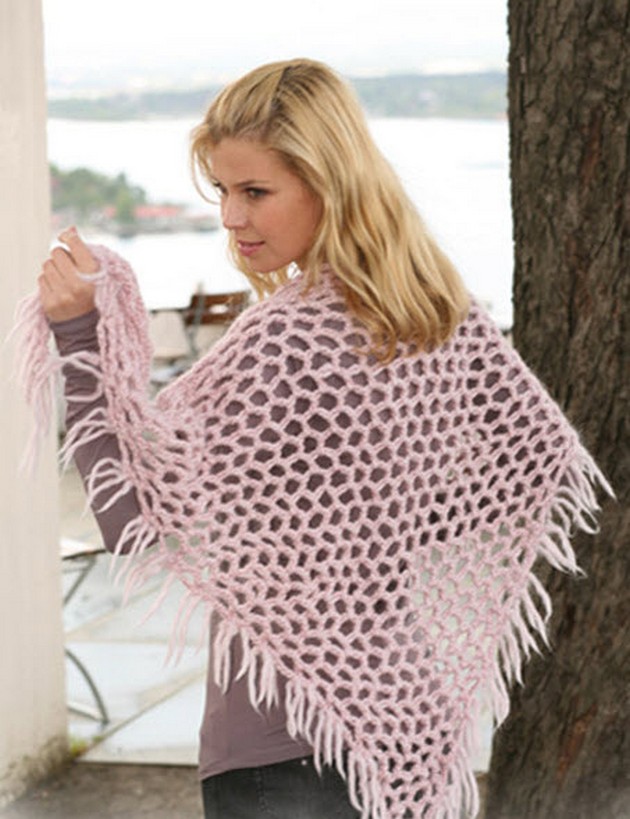 # 5
Wow, I really love pineapples but you must be wondering that what exactly is the connection between the pineapples and this shawls right here? Well, the reason is that this shawl have got the name pineapple lace shawl. The light tone or the shade of the thread that is used here is deliberate and intentional actually focusing on the purpose to make it useful for all the seasons. This pretty pattern of pineapple would just look awesome when carried by you or wrapped around your shoulders and again carry it with any apparel or the outfit.
# 6
Okay, what about this beautifully crocheted single shaded shawl that is equally good for all the vents rather formal or informal? I guess it looks pretty awesome. This is going to add a lot of elegance to any event on which you carry it. It would further elaborate your style in a very elaborative and descriptive manner. This one is called the Spanish holiday. If you are further concerned with the skeins and the stuff, just don't worry about that, each and every related detail is chalked out right here in the given article that is going to make your project just super easy and handy.
# 7
I am simply loving this one and I am already on a spree of imagination with the open eyes. Like I am imagining my better half wearing this one some very romantic eve and we are moving downtown for a very romantic candle light dinner, this is mood charmer and grabber for sure. Not only the thread shade is that much charming but the design and the stitch pattern has also added a lot of value and charm to this smart and beautiful crocheted shawl. This pink lacy triangular shawl would be a unique accessory that your friends would admire irresistibly.
# 8
This is another triangular single shaded shawl that is crocheted probably with one of the most common shades that is more or less loved by all the fashion loving ladies. But there is one sort of restriction that this specific shade could be carried only with some specific shades, so you have to be specific in this regard. Other than that you have to stay cool and calm like it has got no complicated patterns and stuff, and the link given right below is going to make it even easier for you so just give it a try.
# 9
Okay, this one is borrowed from a platform which has got a very extensive range of crochet shawls and trust me all of them are very massively gorgeous, and the good thing is that each one of the project is given in the PDF format so that you could easily record and grasp each wanted detail on this one. The thicker border lines and the middle lines are going to be a bit messy unless you don't go through the minor details and the stitch pattern. And once you are through to that, this gorgeous knitted piece is all yours.
# 10
Just because of the lighter weight and the livelier outlook of this particular shawl we have given it the name of enjoy life shawl. And trust me this is going to be so damn awesome that you would just love to carry it along with you no matter where you go. Well, obviously some different sort of yarns and threads are going to be needed for this one, and where exactly you will find them, we have got the whole details right here. This shawl would really urge you to enjoy your life with its light weight and the impression once you carry it.
# 11
Do you know what, I think the best feature of this shawl is the frills on the base that make it look more charming and attractive. As far as the rest of the stuff is related, this summer meadow motif shawl is very well knitted and planned. Planned in the sense that mood, tone and color combination is all made in accordance with the name given to it. Motifs in each squared box are really very charming and this turns out to be a dominating and distinguishing feature of this shawl too.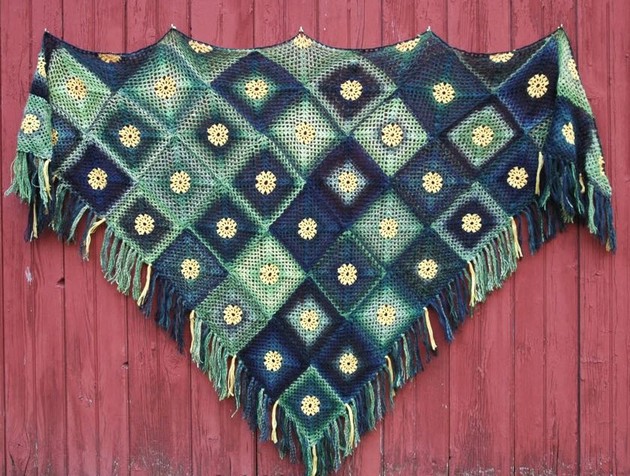 # 12
Addiena, yes this is the very name that is given to this shawl. Well this one is actually not a triangular one rather I would say that this is a squared one that still would cover the good portion of your body. Although it is not that big in size if compared to some last shawls that we already presented here, but I guess this one is for the ladies who really believe in exposure and cleavage. As this would simply be a complementary accessory that would just provide you a cushion. But on the other hand the color combination and the stitch pattern is very impressive.
# 13
Yahoo… do you ladies love it? I mean I am loving it for my lady, this is called as fall sprinkle shawl, this is named just after the shades and the colors that are used in knitting this particular crocheted shawl. Do you see the light weight feeling that is rendered by it? And on the other hand the color combination is also very ravishing and mood escalating really. It hasn't got the mere thread but also some beads that would just add a lot to the beauty of this shawl. Learn the technicalities in the link given below.
# 14
And finally we have brought you this adorable dark shaded floral shawl that is carrying very charming and attractive shades that would make it so eye catching that you would be noticed immediately wherever you go. You can also say that this is an exception to the rest of the standard like all other shawls were mostly carrying some very dull shades, but here we have contradicted that typical standard and gone for some very shocking shades. And despite of this clear contradiction the shawls looks pretty impressive and would complement any apparel or outfit that you carry with it.