40 Crochet Cushion Design Ideas
Hello guys, what's up there… how's crocheting going on there on your side? Well, I guess more and more craving is building up since we promised to offer you guys some new and advanced ideas of knitting in our projects right? Okay, we always stand by our words. Today we have planned to chalk out some 40 crochet cushion ideas for your indoor and outdoor furniture. We have got a very wide and colorful range carrying multiple colored cushion ideas for you guys. You just have to puck one out that suits your taste and start working on it.
Let me begin with this colorful formal sort of cushion cover that is going to pour up a new life into your plain cushions and going to render them the look that would just make you feel relieved and calm as the colors we have used here are all light toned and soothing ones.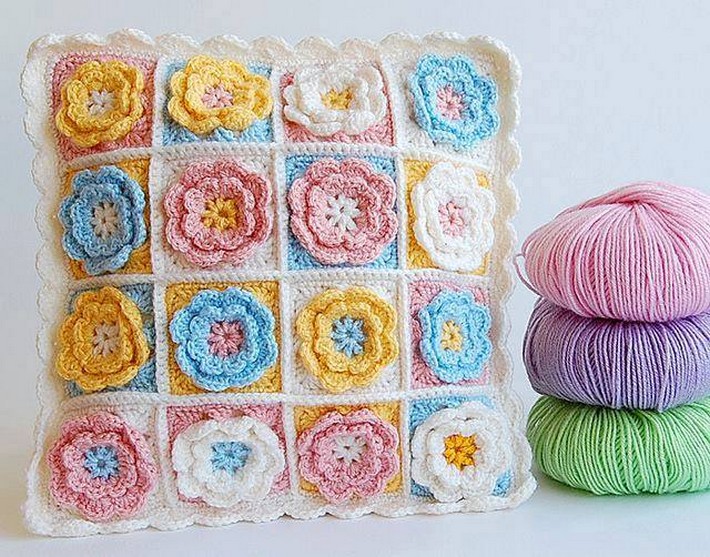 While this one is a bit of shocking range but not all that stuff, we have neutralized the color with some balanced light shade of green to give it a balanced touch. The roses knitted on a green base really look awesome.

There are a lot of crocheted cushions but we are to focus on the frontal one as we used turquoise on the base and on it we experimented with several light toned color threads. For the birds we have deliberately employed a bit of darker shade. And finally they give a really impressive look altogether.

This specific knitted crochet idea that was made merely for this single room chair was meant to stand different so we used some shocking shades of thread in the base. And in the squares inside the base we used multiple shades, this would stay prominent even from a distant look.

Cushions are meant to be an accessory that not only adds to the comfort while lying on some furniture item, but this is also something that contributes to the outlook and the beauty of that certain thing too. So this is always preferred to use some shocking shades so that the prominence prevails.

Just look at this wide range of crocheted cushions. They are although same ins size and shape because they were meant to be placed on same couch, but we have brought about a difference by introducing  large variety of crochet thread shades here.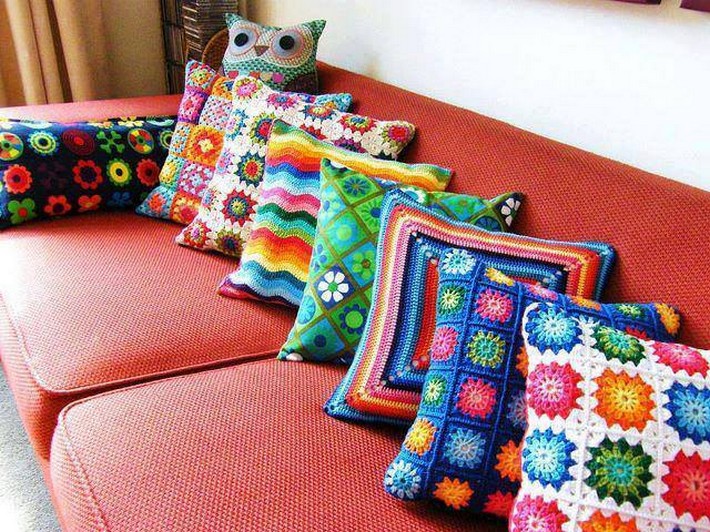 Look at the whole crochet idea step by step. We have used throughout the bright white thread in making the base cover, while on that base thread we have employed various other thread shades to draw these floral designs and to accelerate the beauty we have used differently colored buttons too.

This one is really very nice I guess, although the same stitching patterns are pursued here again but yet it holds a different style as we have had worked a lot on the design prior to the beginning of this crochet idea. Making the sharp corners was more or a less a tougher job yet done very nicely.

Now here we are contradicting a bit to the set standards that we emphasized on earlier. We have used some dull shades throughout the whole project, but as we also said that this totally depends on your mood and taste that what colors to be opted for knitting.

This is a new approach for knitting crocheted cushion. What exactly we did here, we have chosen this fabric as the base of the cushion. And on this base we have experimented with different plant and floral designs to give it the crochet touch.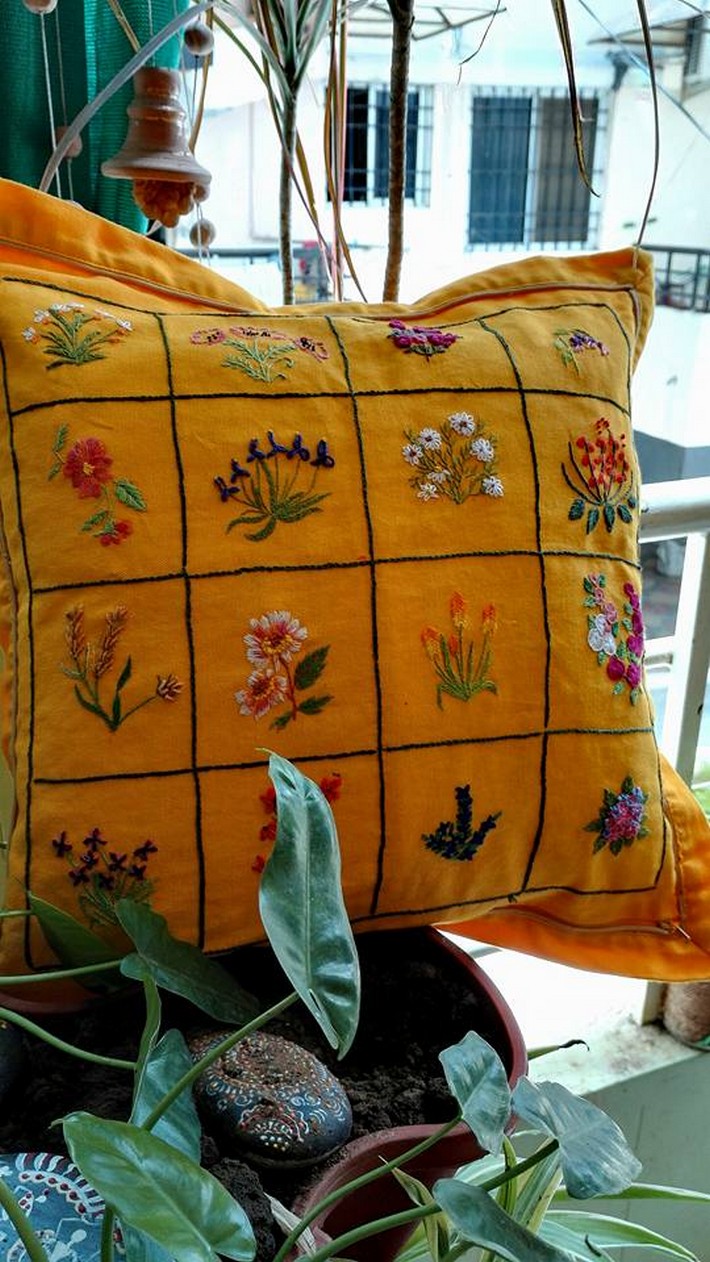 This sort of designs is used in advanced comforters that are not filled with regular cotton or some usual stuff but they are filled with polyester or some stuff like that. To make them look charming the crocheted cover is always a very smart and workable idea.

This tilted moving pattern is very famous especially for making these cushions. And to select the thread colors for them is literally an art because here you cannot just go with only dull shades or on the other hand only with the shocking shades. White is used mostly in the cushions and the other colors have given it a totally different and lively touch.

And here is something that seems more like typical stuff, this seem to be belonging to the traditional stuff that we see around. Same typical shades of thread and the same squared root pattern is employed here.

Again this one is very typical in appearance and also in the selection of color range. While attaching the petal to the other end while maintain that space could be a tougher task so you have to be equipped very well with the best available crochet tools that would allow you such specific stitch patterns.

This huge cushion cover crocheted with the base colors of light is made following the cubicle pattern where all these tiny cubes are combined together to make one whole unit. We have done complete justice with each thread shade by allowing them the equal share in the whole crochet idea.

And if we talk about this one, I would rather name it as simply cute. It has got all the very soothing shades, not even a single shocking shade is used here, and I guess this also lies among one of the best crocheted cushions we have got here.

How many of you have tried making these caricatures out of the crochet? Well, this could be a wholly new experience for many of you, but trust me they really look very nice. Same stitching technique is applied here, you just have to be some extra good with your crochet tools.

As this one is inspired from the flowers and all those heartfelt objects that hold a special share in our lives. There is a strange aesthetic beauty hidden in the flowers. That is why we try them frequently in most of our crocheted projects and they really do a great job.

Wow, just ponder upon this one man, this isn't that regular sort of thing. We have actually used the jute base fabric on the main, and on that base we have crocheted some stuff, plus the strings that are also made of jute and silk are tied up with a round big synthetic button.

To use the fabric in making the base always stands very beneficial as these cushions are more firm and erect as compared with wholly crocheted cushions. And they also provide more easier surface to work on so also try these crochet ideas.

This is very first crocheted project where we have used only one crochet thread and that is pure white. This was the demand of this project that the cushion must stay in one single shade and we see that despite of this isolated color selection the white has done a very phenomenal job actually.

Now this is purely some kids stuff, we can see the single bed where these crocheted cushions are lying. Also look at the shades that we have selected keeping in view the priorities and preferences of the kids. Mostly regular and shocking shades could be seen here throughout.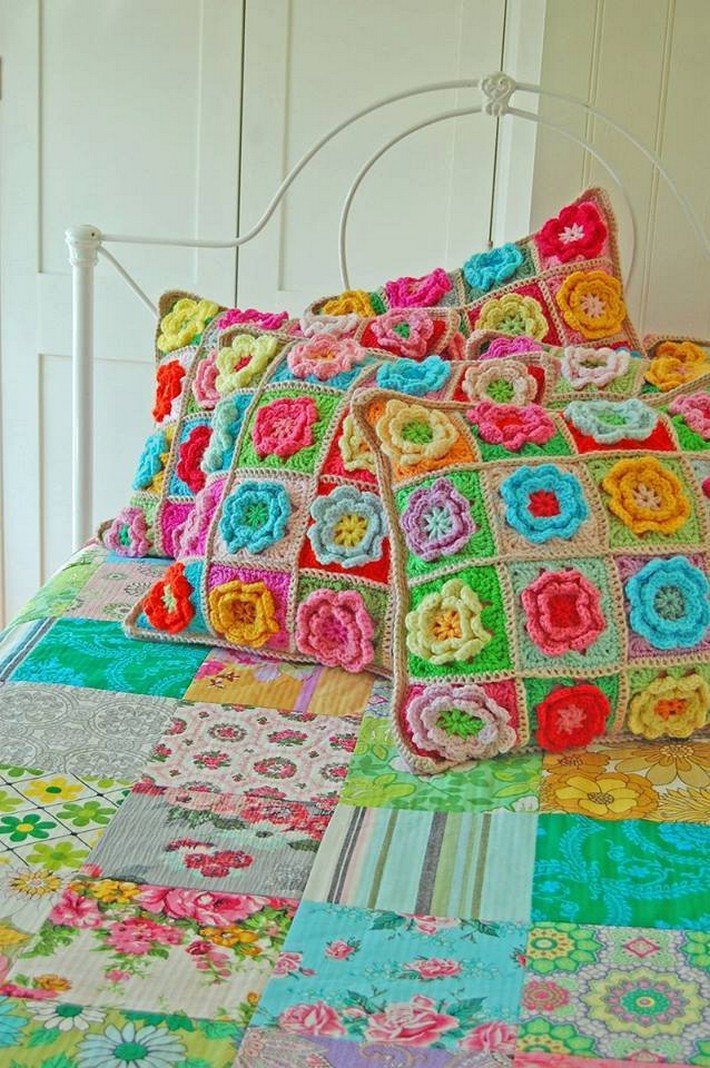 This neck pillow is also carrying a very tough and tricky work of crochet stuff. I mean this isn't at all that common thing that we just make by picking up a couple of crochet thread shades, a whole range of colors is employed here and distinction is maintained between each different thread.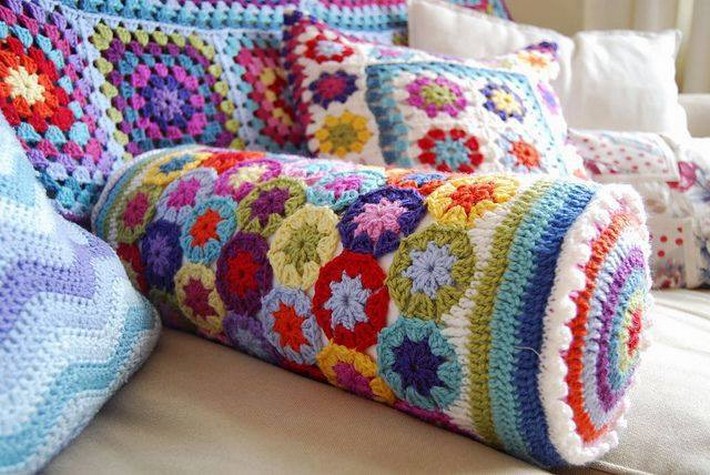 I don't know why they look like cookies to me, maybe I am a bit hungry at this time so pardon me please. But look at them as a smart crochet crafter and figure out their pros and cons. To me they look perfect creation for the wooden furniture items.

Again we have followed that crocheting idea where we use some thick fabric as the base, and on that base we have crocheted a large number of alike little flowers that are probably still blooming. Plus a very wise selection of colors is also made here.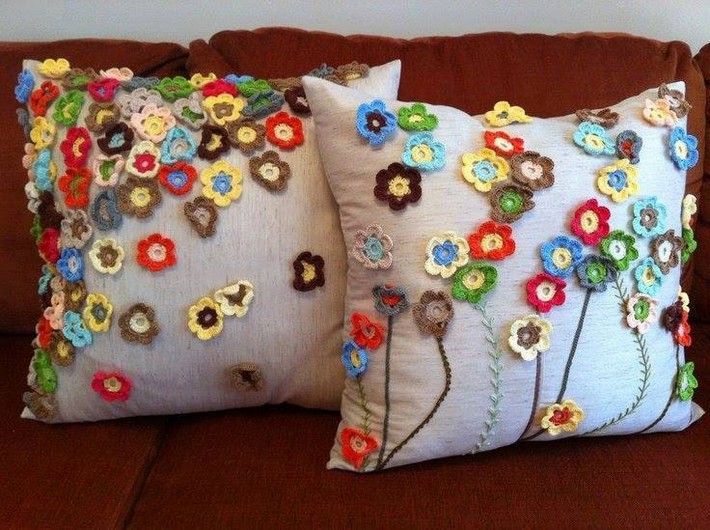 Here all of them are piled up, look at them carefully, the cushions are not entirely made with the crochet thread, one side is made with the fabric while the other one is crocheted. I guess this is something new in this range and yet very exciting too.

This was a plain yellow woolen fabric that we isolated and we planned to draw this crochet art on the cushion. Even the border lines are drawn with crochet and the designs inside each square are also done with the crochet thread. When you become master of something then you risk experimenting with such crazy stuff.

We have used four different crocheted cushions on one single couch and all of them are crocheted with different thread shades. Thick one stitch pattern in used on the base while the flowers drawn on it are also thickly crocheted to maintain that certain sequence.

I am already sure that you guys have made up your mind that which one you are going to pick for your couch or maybe for your room chair. These crocheted cushions really look nice no matter where you have placed them. But it is good if you use them on indoor furniture because in door they might get dirty very soon.

If you are making a crocheted cushion for one single article then you have got the whole freedom to use any color or any pattern that you like the most. But if you have to make more than one and still want to maintain some difference, make sure to atleast use same pattern or same thread in all of the cushions.

Let me introduce another knitted cushion that has got a very smart frill all along the border making it look typical a bit yet charming.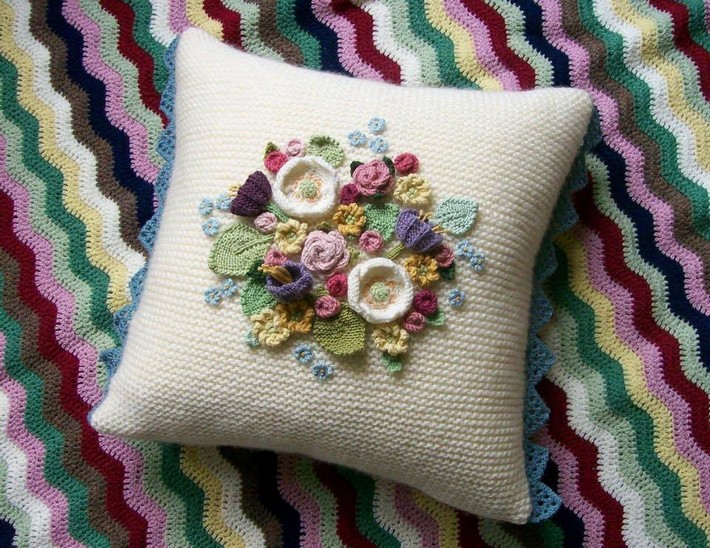 Wow, you really have to admire our crafters who risk with such crazy experiments having no idea about how their efforts are going to be judged ultimately. Whole base is knitted with pure white crochet thread and on that base we have tried differently colored same sized flowers throughout the cushion making a heart shape.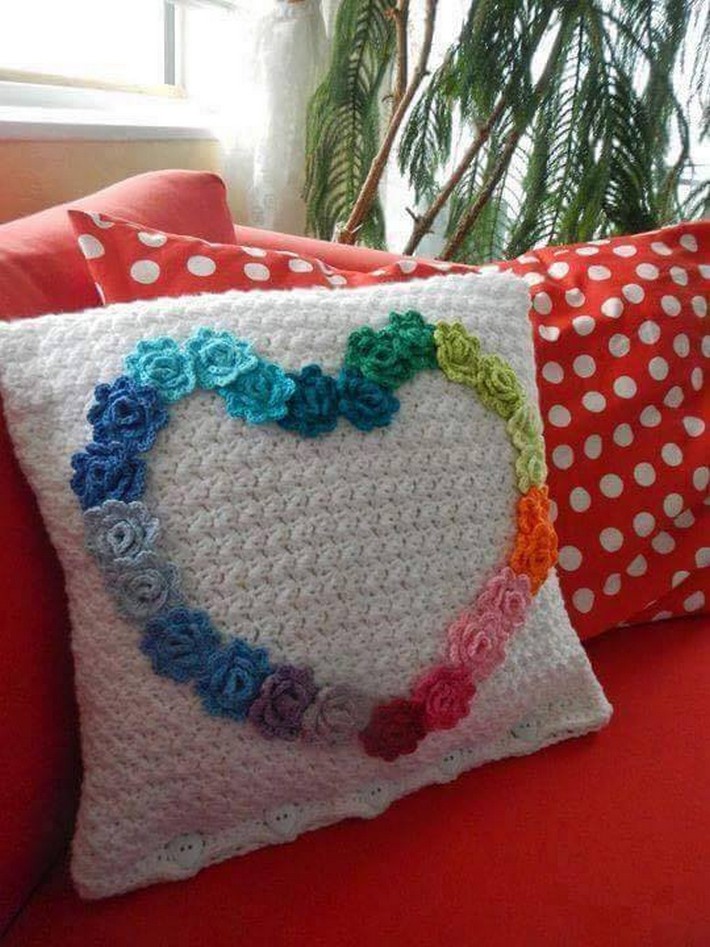 This thing really seems to be brought from some cartoon land, I guess this is a caricature of a mushroom that was especially designed to lure the kids as they have always been literally in love with such crazy object. Look at the genius color selection that renders it a perfectly natural look.

Coming to the next crochet knitted idea, this is a baby pink cushion made mainly with the baby pink crochet thread, so it would definitely be named after that. But the shades used inside it with different flowers are really crazy like brown red and blue on a pink base.

What? Guys this isn't a mere crocheted cushion but look at this, we have got a whole bed spread made with crochet thread. This is so amazing. One more thing is so cool and that is the pattern where in the middle there is a round flower, while each rest of the layers is squared.

Again we have got some very decent and executive sort of crochet work that is done to match with some very ravishing interior because not even a single rash or louder shade is used here. Sophistication and decency is preserved in the best possible manner.

Here again we see the pink shade dominating in the knitted cushion. I guess pink is the color that is more girly, but despite of this fact this is equally appreciated by all the genders. All the shades of pink really look awesome especially in all such artistic projects.

Wow, this is really some next level sort of creation made with the crochet. Very unique design pattern is followed here that is certainly a bit difficult to make. And right in the middle we have used a huge synthetic button that seems like binding all the crochet strings in the centre.

Apart from the rest, this one is my favorite because all my favorite shades are used in here. Blue and very light brown where blue is mainly used in making the border throughout, while the light brown shade is used as the base.

Such caricatures knitted with crochet stuff really look awesome. They are another livelier aspect of art crafts as they give the essence of life and nature right inside our bedrooms. And on the other hand they also fascinate a lot especially to the kids as they always like such crazy stuff around them.

Trust me, if you ever feel bored of the regular stuff that is used in making these purely home accessories and want to bring about some change in that, the crochet knitted cushions are the best available substitute that is also very stylish, cheap and handy too. This is something that is very traditional and since very long period it is into the practice. We have been seeing these crocheted things from the very beginning of our childhood, our grandmothers and mothers used to make many accessories like sweaters, hats, caps etc etc. we have literally tried to revive and modernize this old tradition by introducing these new dimensions of the crochet stuff. This gives you a whole range of colors from where you can opt your favorite shades that you like. You can design each single cushion exactly