50 Crochet Bathroom Set Ideas
While working on some crochet projects suddenly an idea got stuck to my mind, and this idea was about the crochet bathroom set patterns. By the bathroom set I meant the traditional mats that are kept usually around and inside the bathroom that is meant to keep away the dust and stains. These mats are sometimes considered to be very important especially when the bathroom is very lavishly decorated. So pursuing that same thought and idea we are heading towards a whole long comprehensive range of these bathroom sets where we are going to introduce some very genius ideas of bathroom sets.
Well, I am beginning with this unique and unusual design made with the crochet, where we have made the caricatures of some cartoon characters that are obviously very close to the kids. So I guess these bathroom sets or mats would be just perfect for the kids bathroom.

Again here we have got some unusual stuff where we have got the commode cover which is normally very unique. But some people prefer it with the hygienic point of view. Plus we have got a couple of mats that are obviously going to prevent your expensive ceramic tiles from dust stains.

Here we have seen the same approach being followed where the commode seat is wrapped up with a crocheted cover, and there is a crocheted piece on the floor too, and an additional piece is kept ahead that is usually seen around. Color combination is also very awesome.

Okay, here is some typical stuff, like I am literally talking about the color combination which is so typical like it has got a shocking crochet thread shade along with a normal dull shade that is used as the base color. Plus the floral touch has increased the same typical touch.

Wow, you guys really have to appreciate this one as it has got a very beautiful color combination plus the stitch pattern is also very classy. Again we have used the plain white as the base thread, and on that we have employed light pink and black combined.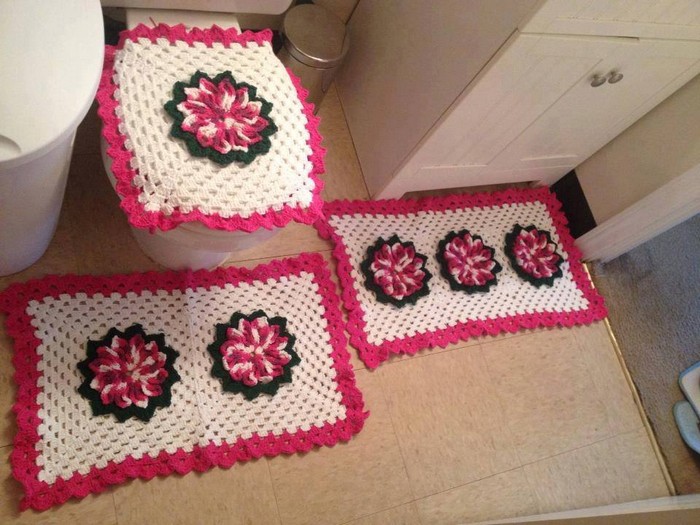 I think this washroom is purely meant for the males as the blue shade dominates here throughout the entire project. Infact here we have contradicted a bit with the set standards of knitting, we have used a shocking shade as the base thread and on that base we have worked with a relatively lighter shade.

How many of you like the green color? Well, pardon me for being a bit rude because I am not very comfortable with this specific shade yet no objection. There could be a lot of people who would adore this shade.

Seems like this bathroom set is designed by some very lively person who is so fond of his or her house that he didn't spare the bathroom even and gave the best for its decoration. The color combination is pretty good as both the light shades are used here yet they look pretty awesome when put together.

Okay, although we have kept the bathroom almost the same but we have brought about a lot of changes shade and stitch pattern wise. Like here again we have got a three piece set that is just like the rest, but they are totally different from others in appearance.

Now this is something very classic, I mean we have mainly used a very un common thread for knitting that is not used as the base normally, but in this specific pattern we have knitted the base with jet black thread and rest of the work is done with some lighter shades.

Wow, these bathroom sets are getting better with every next project. I mean this one is simply awesome. I guess the most decent thread shades are opted for this specific project. And in the middle it seems as if the sunflower is blooming.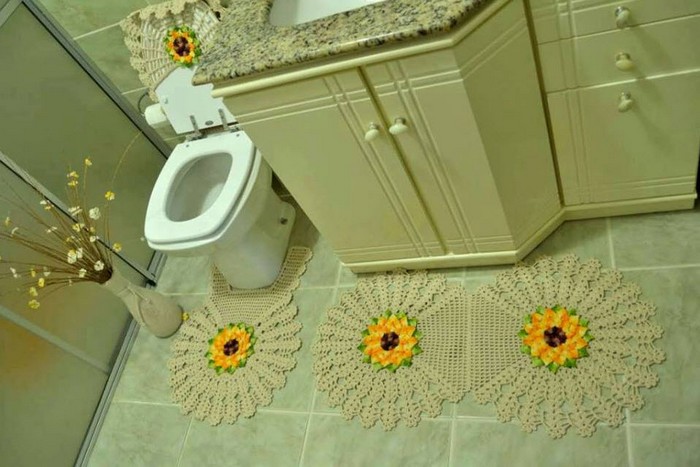 Now here we have gone a step further. Like this time we haven't got the mere three piece bathroom set this time but we have also got a tissue or toilet paper cover too again made with the crochet. But as a matter of fact a different stitch pattern is used this time.

I think the bright white thread is one of the best shades that could be used as the base shades, and all the work done on the white base becomes so pretty prominent and the white base also complement the rest of the shades. Just select a couple of lighter tones.

Awwww… this thread shade is so cute and literally soothing that if I were to use this bathroom, I would literally think for nearly ten times before using this bathroom. Not only the knitting is done here, but we have also added a frill of silken string pierced in the bathroom set.

My goodness, this one is so cute man. I really like the things when they are literally in black in white. Just kidding. I mean I am really impressed with the wit that the crafter has applied here. Just look at the decency and the sophistication being reflected out of this bathroom set.

How about these caricatures knitted with the crochet? Don't they really look cool? I mean they play a very important part in the decoration of the bathroom as well. Not only they help as a mere accessory of bathroom but also contribute to the interior as well.

Here we have confined the knitting to the commode cover and a foot mat below. But make sure that when you are using these crocheted bathroom sets then there must be a spare slippers to enter the bathroom or else they are going to get dirty very soon.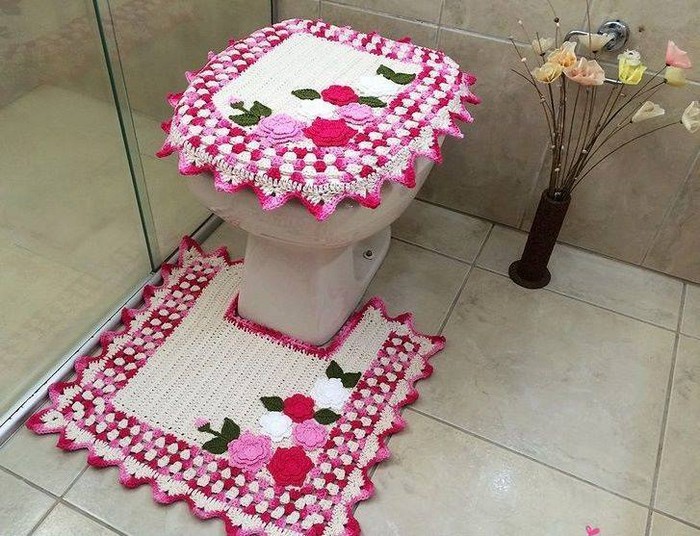 Wow, yellow is also one of my favorite shades. I really admire it, especially when it is employed in some art projects. Its certain shocking shade gives a very lively impact. Especially when it is crocheted along with a couple of other attractive shades as well.

One more thing that must be kept in mind while knitting the bathroom set for your house, like you have to be very specific with the measurements like you cannot just make too big bathroom sets for some relatively smaller bathrooms. Like here we dared to make such a huge bathroom set because the area available with us was quite huge.

Now what would you guys say about this phenomenal bathroom set? This is so adorable, it has got so many shades that are very soothing to the eyes. Plus it has got very cute caricatures on it too. The covering border is also awesome.

Again this is not that regular stuff like what I mean is that not that regular thread is used in here. This time we have used a bit thicker crochet thread especially the yellow one. Although the base shade is the black yet the yellow is pretty prominent due to the thickness of the yellow thread.

And here we have got a whole range of bathroom sets and the mats that are multiple in number. Like we have got a couple of floor mats, we have got a commode sear cover, and we have also got a basket or dust bin cover too.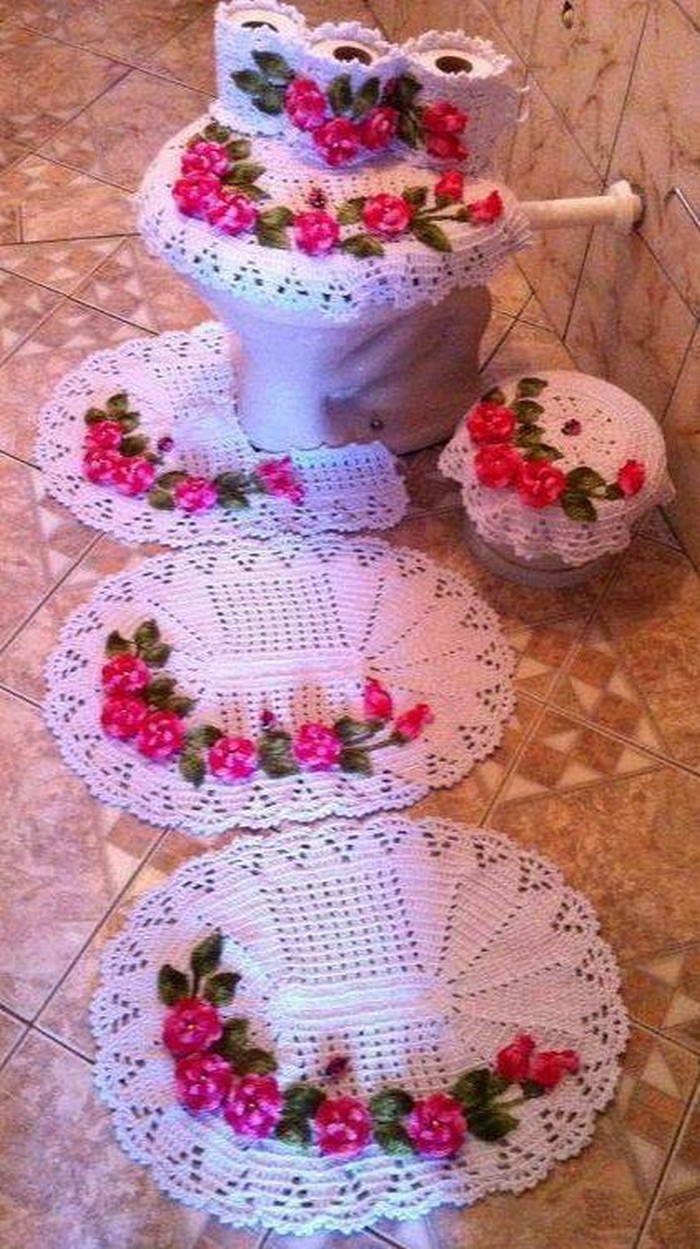 If we ponder upon the crochet work displayed here, the base thread work is simple in terms of skill. But as far as the floral dimensions are concerned, very smart stitch pattern is used as it was a tough job to give multiple shades to a single flower.

This crochet bathroom set stuff is getting better and better with every next crochet project so far. Like this one seems pretty tricky pattern as the centre of the mat is reclaimed, while the border work is knitted with the crochet. The flowers are also crocheted very finely.

Such art inspirations are really self motivated. People usually like them in their own way like they become wholly specific in the matter of color selection. Plus they also become very specific about the stitch pattern and also about the size as well according to the available area.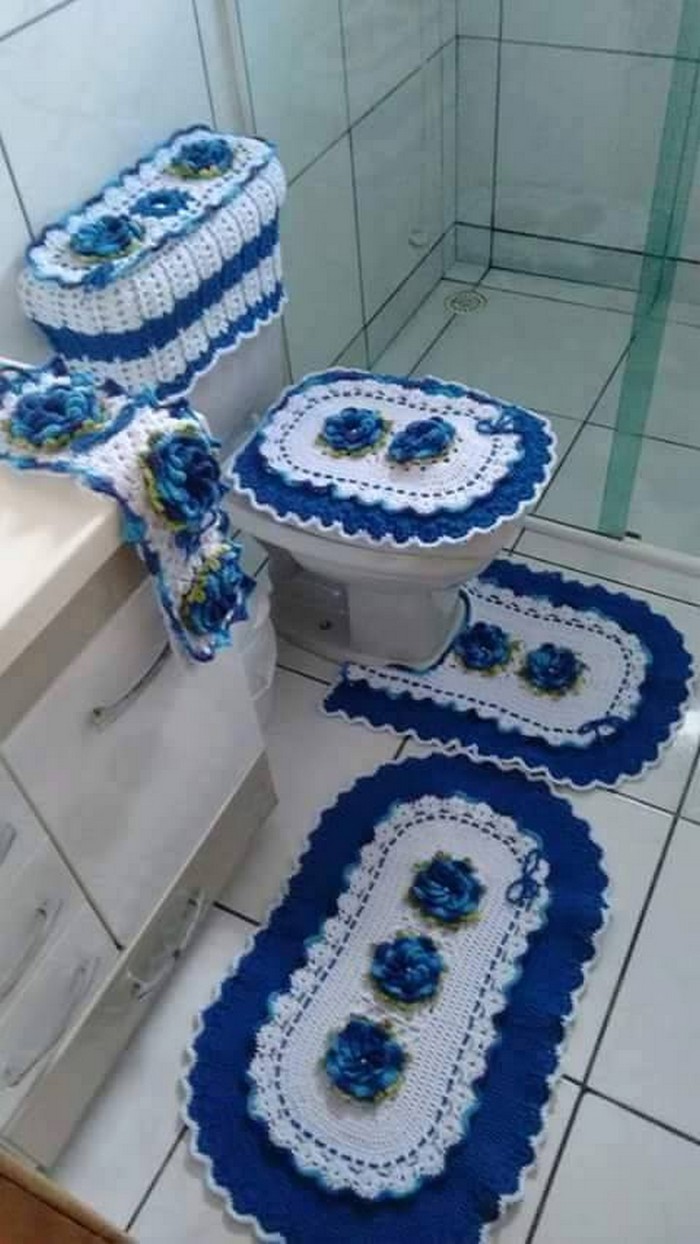 If you want to give them a heavy touch then the best possible way instead of following double stitch is to use the thicker crochet thread. They would best prevent the dust stains and would also render a perfectly decorated look to your bathroom. You must give it a try to experience some difference.

How about this deep red bathroom set? I don't think it needed any further embellishments at all as this is already such a shocking shade. Despite of such a shocking shade we also added some floral embellishments to neutralize a bit the darker shade.

Another important aspect of these crocheted bathroom sets other the stain deterrence and decoration is the hygiene that is probably the most important thing. They do not get contaminated very soon plus they also ensure the cleanliness of your bathroom. So it is always good to have such knitted bathroom sets.

One more thing that must not be neglected is the design specifications that we have emphasized on the most. Like these entire bathroom sets are confined to the design specifications that are going to be covered with them. Plus we have also paid heed to the additional embellishments.

Blue has always been my favorite shade and honestly if I were to opt for the one bathroom set among these all presented here, I would have gone for this one definitely as this is absolutely according to my taste and priorities. Also look at the touch of white thread in the blue base thread, that is simply gorgeous.

In this project we have deviated from the most repeated design and pattern as well. As we have tried this time this round rug like bathroom crocheted pattern. We also used the thicker threads this time to give it a heavier look. The flowers knitted on the black base are best complementing the base thread.

Don't get offended guys because despite the fact that the pink is considered to be a purely girlish shade, still I am very much inclined towards it. I really like it when I am working on some art projects.

And this one is really royal looking sort of crochet project. Very fine shades are opted for this knitting project, each tone is highlighted in the best possible manner irrespective of its contribution or the share in the project. And it is also very tricky sort of pattern as a number of stitch patterns are interlinked and mingled.

If anyone of you is bored of the mere crochet creations and want to mix it with some other attractive material, then this fur like fabric is the best available substitute that would constitute one of the best bathroom sets I am sure.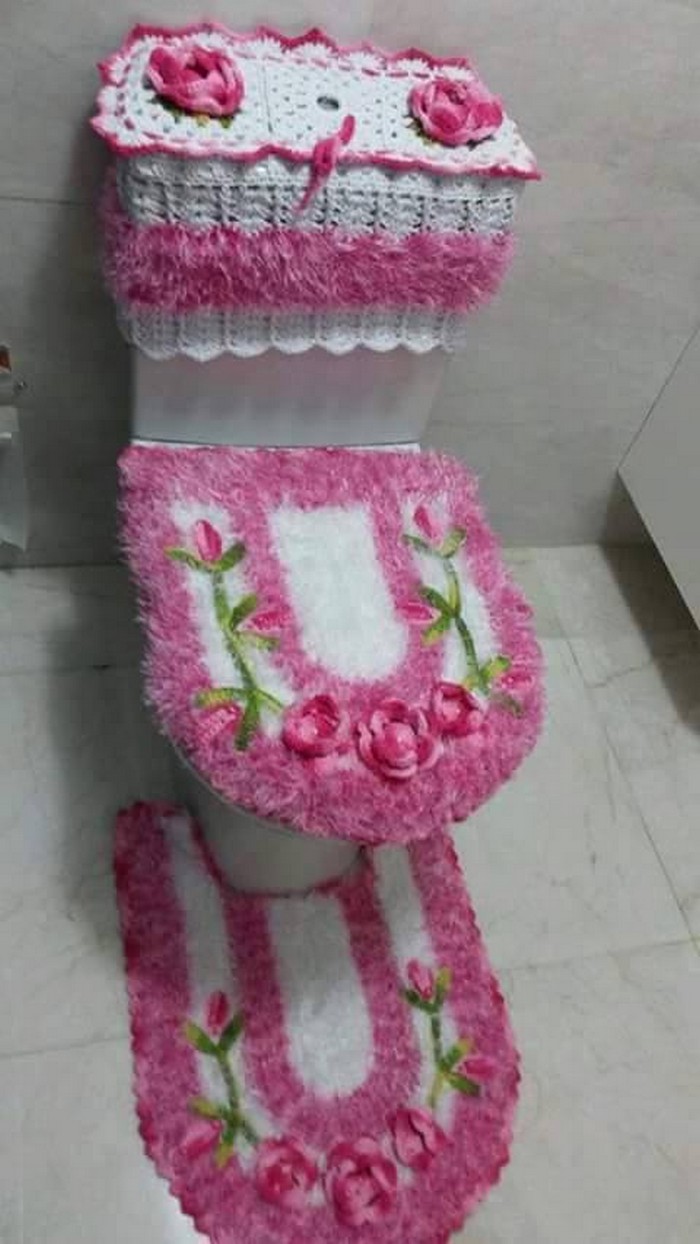 I have also got an opinion of my own which is completely endorse that I guess such bathroom sets would just look good in typically made bathrooms carrying some ceramic tiles or other typical material. They would be a bit misfit in lavishly decorated high class bathrooms so better try them in average made bathrooms.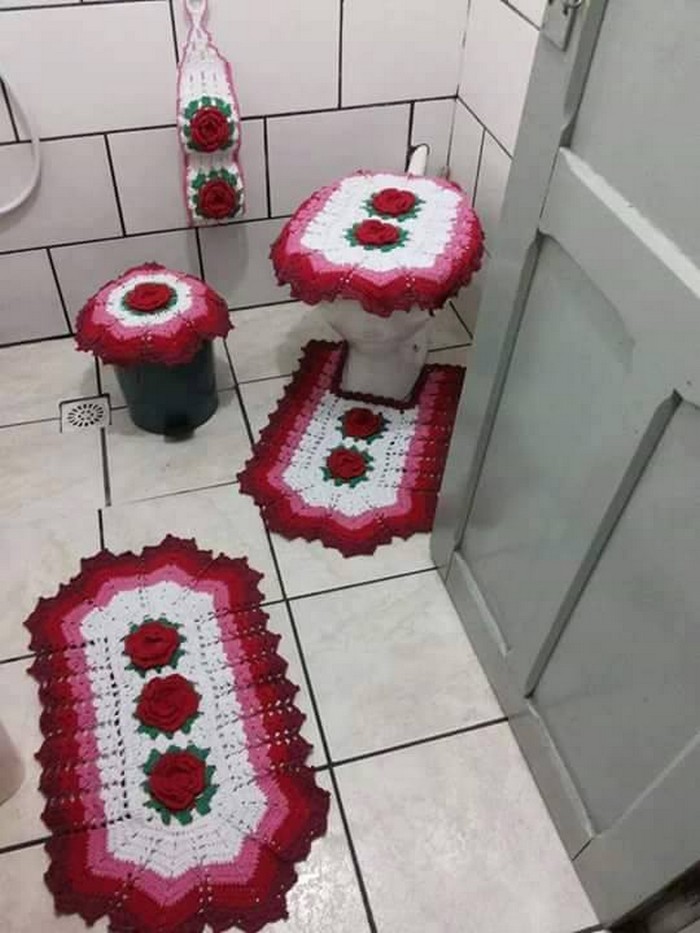 I think if any of the guests is about to use this bathroom, he or she would be very reluctant to use it as it is equipped with some of the best bathrooms sets crocheted with the best available materials that are other than the crochet thread too.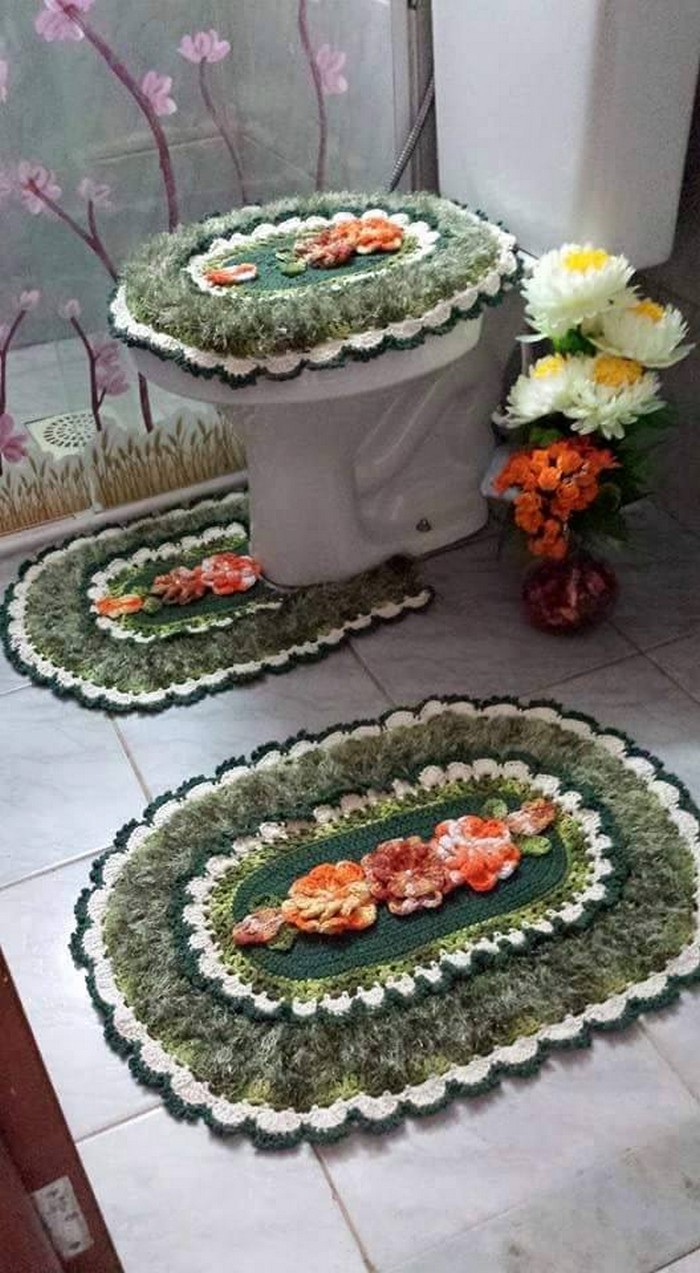 And this one is the continuation of the earlier projects where we used only regularly thick crochet thread. Plus the stitch pattern is also simple and common that is used in making most of the crochet accessories. Although we have emphasized a lot on the floral embellishments and experimented with some unique threads here.

If anyone of you have got the opinion that there must be some material mixed along with the crocheted stuff, then this is a perfectly practical approach as such extensions really add a lot to the knitted projects like here we have used this plain rope pierced in the closing border.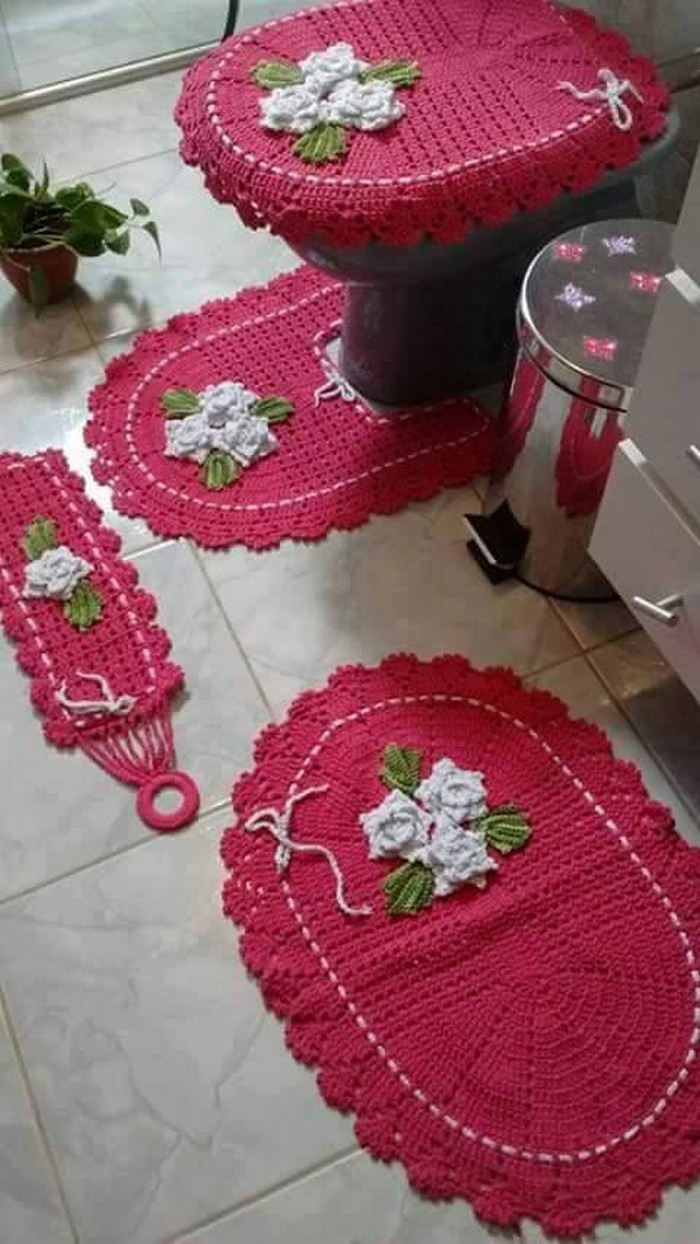 Here we go with a totally different knitting idea where we have got a multi layered crocheted bathroom set. Like it seems as if there are two different knitted sheets that are put one on another, but actually this is one single unit.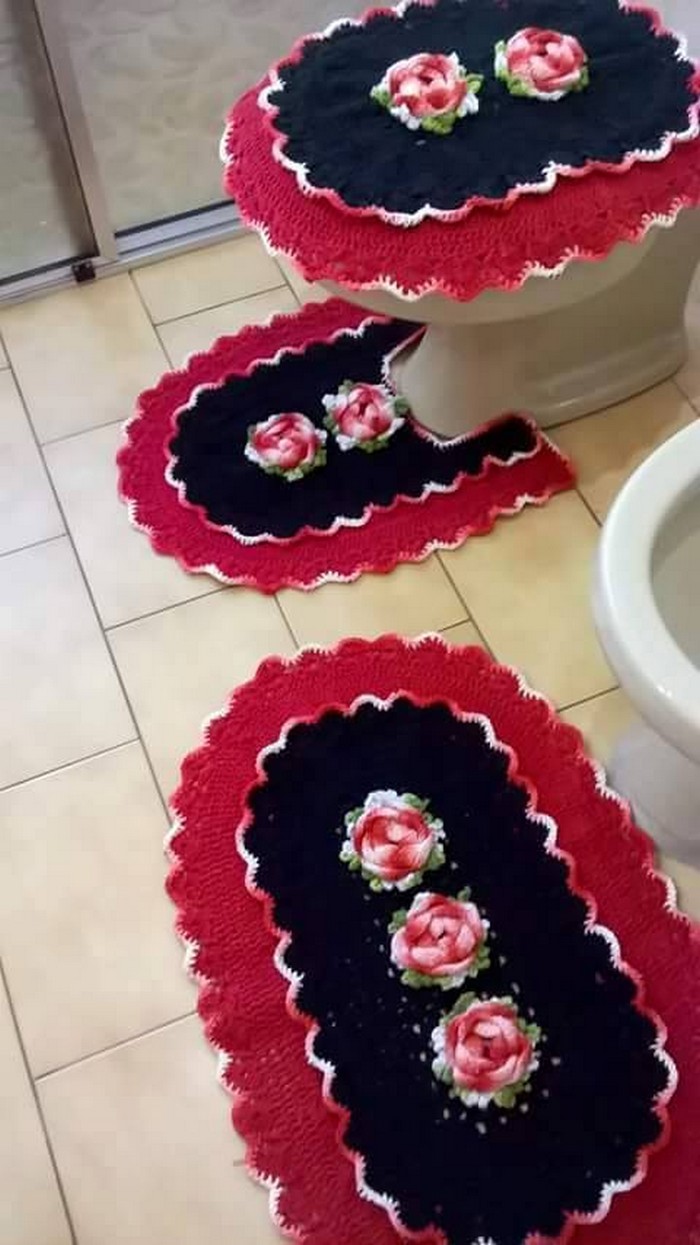 If you ever are willing to do some decent stuff then let me assure you that the lighter tones and the shades are best tools available at your hands. Because you can never preserve the decency while opting the darker shades. And the best example is demonstrated here.

I really feel deep inside my heart that such bathroom sets would look good in some relatively congested bathrooms, as there they would be dominating the scene and would really create an impact. As this one is exclusively small bathroom space but despite of that fact the crocheted material has really done a great job.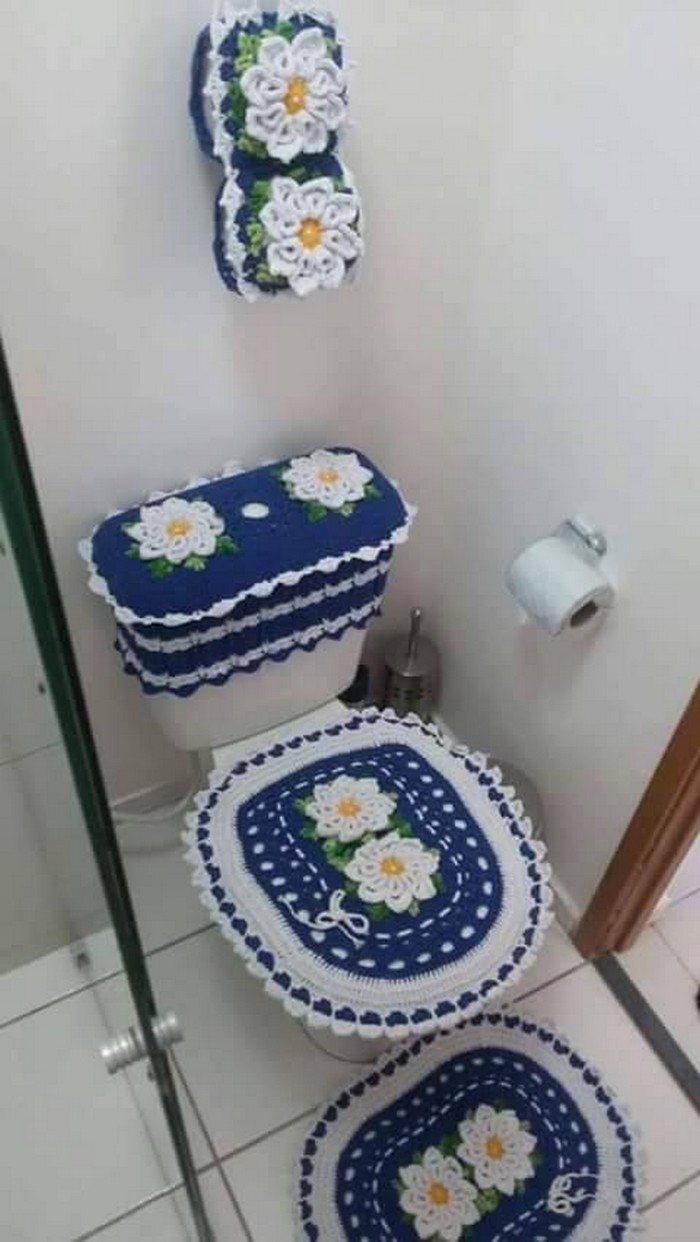 Don't get confused to see this specific knitted project that how exactly I am going to make this fluffy and furry border line because that isn't actually crocheted, this is the furry fabric that is easily available in the market. You just have to match the one with your thread that you are working with.

I think here you guys have got enough of the inspirations and all of them are different in many aspects like they hold different designs, different color combinations and also different stitch patterns too. Your job has become much easier to opt for a bathroom set that you need to work on.

There is another aspect that must be kept in mind. While working on the color selection you have to observe the surroundings and also the tones of tiles that are used in the bathroom. So in a bathroom this is always better to follow a contrasting approach.

These knitted mats are always easy to deal with. It would be better if you take measures to prevent them from getting stained and dirty because unfortunately the crochet thread contains the dust particles very easily, so arrange for a special slippers pair on the entrance.

Keeping these bathroom sets alive for some longer periods of time make sure that you do not let them get them wet very soon. And once they have got wet, you make sure to dry them out in the sunshine and once they are completely dry then you put them back.

Just look at this cute bathroom set. It has got a variety of charming shades all mixed together. We have made the seat cover, the floor mat, the basket cover and an additional mat that would be used while standing in front of the mirror.

There are different perceptions regarding this bird called owl. In Asia it is considered to be the symbol of foolishness, while in the Europe it holds a status of the wittiest bird. To me the latter one is cool as it looks so cool even when crocheted with some of the best available shades with us.

We have combined here all sorts of designs and shapes that could ideally be made especially for the bathroom keeping in mind the congested spaces available in there. These are the most ideal shapes that would fit to all sizes and dimensions.

And let me appreciate the fellow crafters who have literally poured the life into this sunflower. Each petal of the flower seems real with its perfect shape and design. Plus the middle black circle has even infuriated the natural touch, so from all the aspects it is an ideal bathroom set that would be appreciated by all sort of people.

I am ending with this one of the most favorite shades of mine. Here we have used the navy blue as the base shade thread, and white is added in the shape of borders. Despite of the minimum available space we have designed the bathroom set in such a manner that when tilted it becomes perfectly fit inside the bathroom. Another thing that must be discussed is the strange double layer that probably we have used in one more knitting idea above. We have deliberately opted for these colors because if we have had gone for some darker shades, this would have looked all messed up due to the congested space inside the bathroom. All of these bathroom sets are pretty workable and practical. They could ideally be tried inside the apartment bathrooms to give them a livelier touch and also to decorate them in an ideally traditional manner.