Have a Look These Amazing Crochet Baby Booties
The crochet baby booties not only looks great, but it also keeps a baby warm and keeps them protected from the severe cold weather. People who know how to make a crochet prepare the clothes for their kids, especially the grandmothers love to keep their grandchildren safe from the cool breeze that can make the baby ill. The yarns used for making the crochet are available in a large number of colors by which multi-colored crochet baby booties can be made, there are different crochet patterns and all looks amazing.

The single-colored baby booties you can see here looks adorable when a baby wears them, there are many types of buttons and the pearls that can be attached to them for increasing their beauty. The pearls look great when the contrast color is used like white pearls on the shocking pink boots.
The colors like blue presented here with the combination of skin color looks amazing for the baby boys, the crochet baby booties enhance the beauty of the small feet when the crochet booties are on them. The lighter colors look good on both genders.
Not every person can make the crochet baby booties, but those who know this skill can make it in different styles and designs like the one presented here. The blue colored car baby booties will look adorable on boys as well as on girls when the dress is also blue.
If you want to prepare the design below, then arrange the yarns of 5 colors and prepare it. A person can choose the colors according to her taste; it is not necessary to buy the yarns of the colors shown here. White baby booties are perfect for the girls as the color makes them look sophisticated.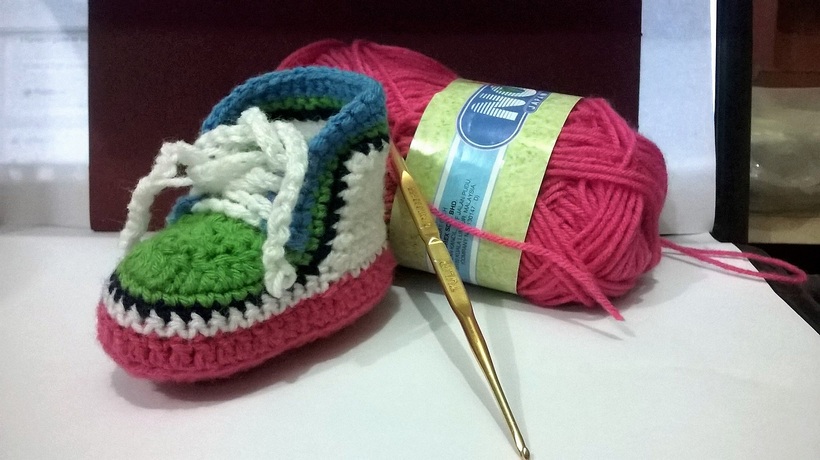 Here comes the combination of red and white, which not only looks amazing in the dress; but the baby booties that are made up of yarn to keep the feet warm as well as safe from the extreme cold weather condition. Crochet booties are an outstanding way of keeping the baby away from the flu and other health issues caused by the cold wind.
Now you can see another great design which looks like flower petals, there are many combinations which can be prepared for the newborn. Beads and the pearls enhance the beauty of the booties and make it look eye-catching.