Cute Crochet Sweater Patterns
I guess for the very first time we are heading towards something that is kind of typical knitting creation like the sweaters. We are presenting here a number of cute crochet sweater patterns. But let me tell you one thing very clearly that these sweater patterns aren't going to be that typically designed rather they would be so damn stylish and appealing that all the ladies would just love to carry them. There would be mixed sort of designs and stitch patterns that would render a whole new life and look to this important winter clothing accessory.
# 1
I am beginning with this buttoned up simple sweater for the ladies or rather I would say it is much better for the teens with its very attractive and charming shade. A bit of loose cuffs and a round curvy neck it has got a very beautiful style and would prevent any unwanted cleavage if you want to do so. The fitting is deliberately kept a bit lose just to maintain a casual look from the sweater. And the link given right below the project provides all needed details and this would be so damn handy for you to work on this one.
# 2
Now this is a bit of different bid for your winter preparations, jazz up your wardrobe with this fun crocheted tunic that is going to give you a very fabulously impressive look. This is going to be so damn easy for you to make it as it has got no difficult patterns and one better thing about this is that the back and the front of the tunic are the same. The neck design is kept pretty open and round as usual, and the loose arms give it a very dual look to use it for the formal and casual events as well.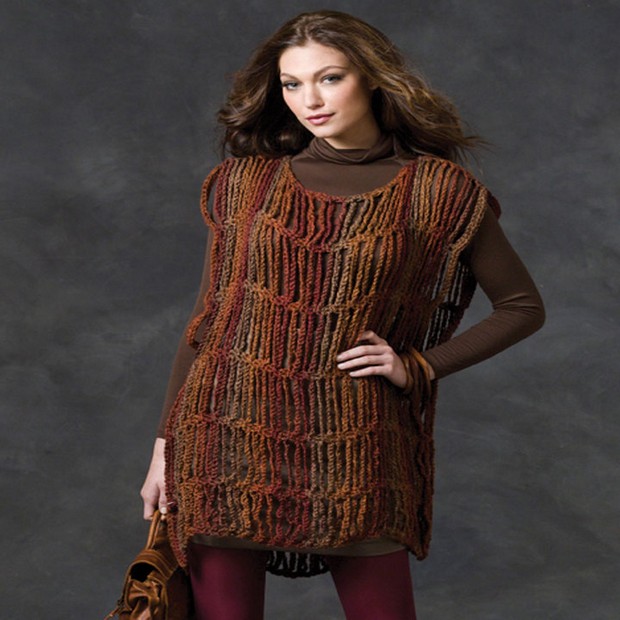 # 3
I think apart from the stitch patterns and other things at very first sight you are going to love the color combinations used in this very pretty tunic. It is crocheted in such awesome thread shades that it would be equally good for all ages and complexions for sure. As far as the design and the style of this tunic 9is concerned, again it has maintained a pretty easy style with a closed neck style and loose arms. The stitch pattern would certainly be very tricky and difficult if you try it out without the provision of proper guidelines and details.
# 4
Okay, now how many among you are already inspired from this beautifully crocheted Kingston jacket? Yes this is not from among those typical sweaters as we promised you in the very beginning that these are not going to be those typical sweaters. This is an ultra mod and stylish jacket that covers the whole upper body and it has got a very nicely crocheted tie which adds more beauty to the said accessory. Plus the color scheme that is opted for this is pretty dull and this could be carried along any color's outfit.
# 5
Well, honestly speaking I am already loving this side to side cowl neck sweater and it has got many potential reasons like the shade or the thread that is used in crocheting this simple sweater is one of my favorite shades, I just love it for my better half and would urge her to try it. It has got the thick linear pattern throughout ranging from the upper top to the lower bottom. Most of the times we see the single stitch pattern applied to this knitted beauty. And the neck style would not only keep you warmer but would also leave a major impact on your style statement.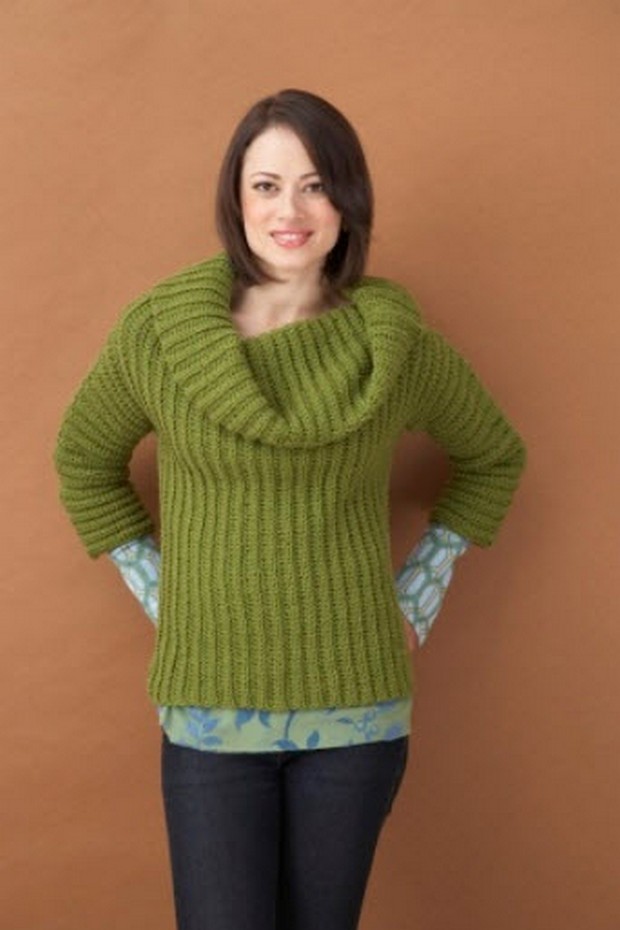 # 6
Awwwww… I am simply loving this cute bella baby pullover. This is again different from the conventional and typical sweaters that we are sometimes compelled to opt for our beloved kids having no other stylish options. It has got a very pretty crocheted brooch right on the frontal top. It carries a very simple design while the thread shades used in it really make it an intensively impressive article especially for the kids. As they always love such deep and shocking shades. So I am sure many mothers out there would love to try this as the next birthday present for their kids.
# 7
This one is a v y nice crocheted top that is made using some of the best available thread shades. It has got throughout the golden metallic diagonal lines that render it a very stylish and intoxicating look that escalates the beauty of this specific knitted product. Plus the bordering lines crocheted with a different light white or dull white thread balance the dark shade in the top. It has got such a color range that would make it an ideal top to be carried on any outfit or apparel.
# 8
And here we have got in our range a very impressive and scrumptious cabled sweater vest. This is actually inspired from the same classic sort of vests that were usually plainly made without any extensions and embellishments. But in this particular knitting project a very nice floral frontal line is crocheted right on the front from top to the bottom of the vest. Same crochet thread shade is applied throughout the project. And the border lining in the border carrying a double stitch deep pattern is also very impressive that given it a very stylish look despite of being from the classic range.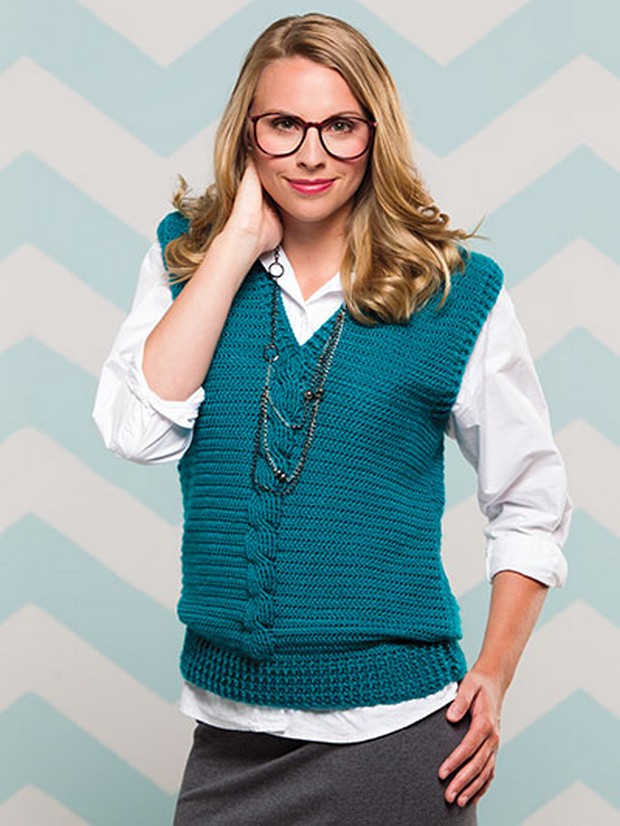 # 9
This is another cabled vest that certainly different in the looks and appearance from the typical sweaters. This is very richly textured and the cable ribbing defines its class to be from the classic range. The color or the thread shade that was opted for this particular vest is also very impressive. The blue could be a real grabber at once. And again this would be carried with most of the shades and would just look perfect on some casual clothing that you wear in daily routine like jeans and some cotton top or even tees.
# 10
My goodness, so much magic and class is poured in this single lace topper. Do you remember those granny squares that belonged to the old grannies and they made it part of their most of crocheted creations? This time they are combined with a whole new flawless creation and they never looked so chic and classy at all. This free style pattern is crocheted with the most charming thread shades and the loose short arms give it a unique and easy look that makes it ideal for all those formal outfits. Don't still ignore the black round buttons adding more flavors and charm to this one.
# 11
How many of you are driven away with the stunning beauty of this decent and sophisticated lilac mist sweater? Well, I guess all the adorable and stylish mommies are going to make their pick the very moment they see this stylish beauty. Keeping in view the style and design of this smart accessory a very appropriate color selection is made that make it ideally perfect for all fashion conscious ladies. This renders a very luxurious and comfortable look to the users. And as far as the stitch pattern is concerned, that is so simple and handy that even the beginners could give it a try.
# 12
I am just telling you that you just have to be real quick and super fast in making your pick or your friend or one from your acquaintance would be making her pick out of this cool and smart range of crocheted sweaters. This Rickrack and roses sweaters carries it all what your baby doll is simply going to fall in love with I am sure. The beautifully crocheted flowers on shoulders and front are making it a pure kids stuff while the v shaped opening renders it a pretty unique and different look.
# 13
Okay now the thread color used in this smart v neck sweater reminds me of the good childhood days. Although the same vintage and classic style is adopted in this particular v neck sweater but still it has succeeded to maintain a very deep rooted impression to create a jaw opening impression on your friends and the family. This smart v shaped neck would make it an ideal top for the jeans and tees. The joining thick frontal neck stitch pattern is receding to whole bottom downwards. But make sure you have used a proper lining inside the knitted top.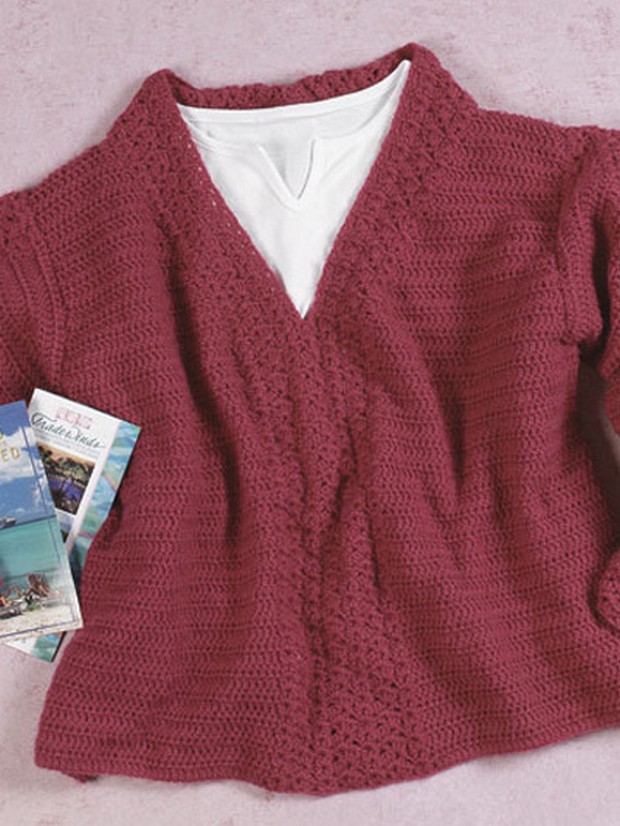 # 14
And finally this whimsy stylish short sweater or top is brought to you where we see one single shaded base thread throughout and some contrasting crocheted flowers are cropped out for the further embellishment and we see this has really done a very great and impressive job. The dainty curling vines render it just a perfect touch to make it a wise choice for all the ladies aspiring for a really impressive winter accessory that could be carried irrespective of the design and the shade of their inner apparel. Find out further details in the lik below and try your skill with this smartly knitted beauty.