Crochet Table Runner Inspirations & Designs
Right at the moment when we were discussing about some new inspirations for crochet art, an Idea came to my mind that why not to plan some awesome crochet table runner ideas and designs. This seemed a perfect direction to rush towards. There are many typical runners made of some ordinary materials in the market. They look good on the tables plus they also prevent the damage and staining of the table. Here we have got a whole wide range of crochet table runner patterns and designs for you guys. Seeing these inspirations you can make up your mind for some appropriate table runner for your house.
I am beginning with an extra ordinary table runner. This is a not a simple and plain patch made with the crochet, but the flowers on it give it an extra ordinary look and appearance. Such shades look really great on the tables.

While here we see a relatively smaller patch of the crochet made runner, but here we have also made the chair covers which is something traditional. Although they are not very much in fashion now a days but I guess reviving this tradition would be really great for decoration purpose.

While making some crochet runners especially for tables, it is always preferred to use pure white crochet thread as the base color while rest of the colors are also applied keeping in mind your taste and priorities. This white shade gives a lighter and cleaner feeling on the dining table.

If we talk about the stitch pattern then certainly there is no limit to it, you can try a huge variety of patterns but one thing would be good if followed, we must follow the stitch pattern where inner spaces are very tiny and short.

As here we have come across a whole package where not only table runner is created with the crochet but the chair tops or covers are also made and other than that we also see some kettle covers lying on the top of the table. This is just about your ease and expertise and then go on making whatever you like to.

Each one runner is different here from the last one. In making the table runners this would be good if some thicker crochet thread is used or else it would keep slipping away and will not stay intact on the wooden table. Thicker thread carries some weight somehow so this is preferred.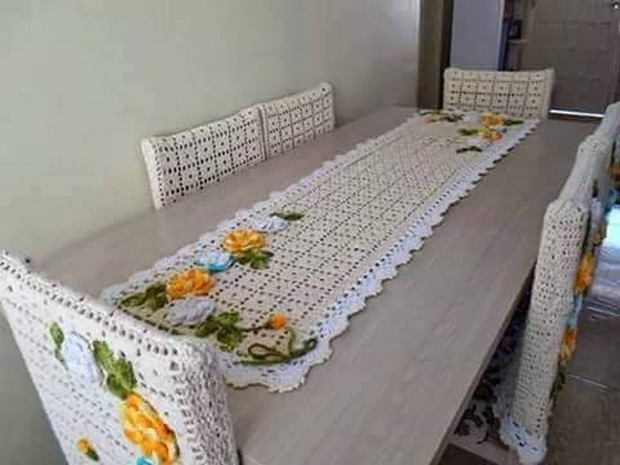 This one is more typical and also a bit old fashioned but one thing that must be appreciated and applauded is the color combination of different thread shades. Combined they seem marvelous and render a lively touch to the dining table.

In this project we have used only two different shades, one is the base shade obviously but this time it is not the white but it is the mustard one. A bit of work with white thread is done on that like little flowers on the chair top each.

Again here we have resorted to two different shades and white is the base shade this time while the other one is a bit darker. What exactly is different this time, the runner is a slim relatively while the chair tops are bigger and longer than the last ones, so this time chair covers are dominating.

I guess not very much people like the green shade, but as we always say that this is all about your own priorities and choice. This time we have mainly focused on the chair covers, while the runner on the table top is kept too short.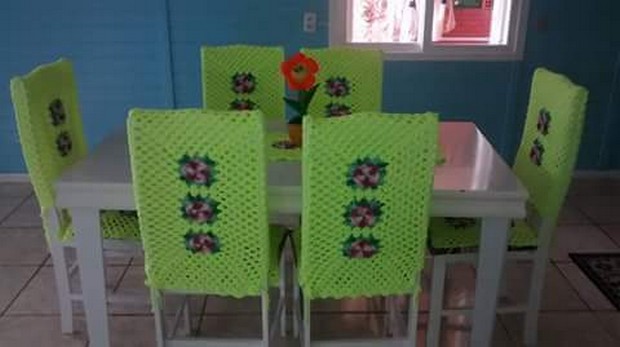 Pink is the color that is adored by both males and females. Especially when you are making a crochet flower out of the pink shade, this would be an even better feeling. The runners having pink shade become a grabber for sure and everyone appreciates them.

If you are in a mood to do some really heavy stuff with the crochet, the best thing would be making a flower that seems to be carved out of crochet. As here we have restrained from much intercepted designs but we have paid heed to the flowers and their appropriate placement.

This doesn't make a difference that what kind of furniture you are having like wooden or synthetic, this crochet thing would look equally good on all of that. Infact it further escalates the beauty of your furniture and enhances the design and all organs of a furniture article individually.

Well, this sort of crochet work is real tricky and it takes a lot of guts and years long experience to hold that much skill. You have to be very specific about the stitch pattern and also about the thread shade on each petal of the flower from up to bottom.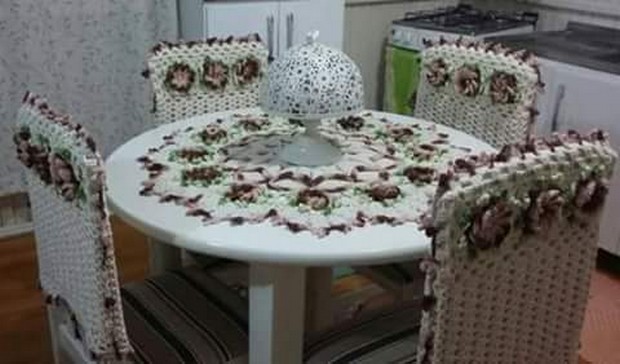 Don't get worried if this seems a bit weird and old fashioned stuff that you consider not to be suitable for your place especially because of the color combination, just focus on the design and you can always make amendments in the color scheme and bring in the colors that you like.

We have also done frequent experiences with the metallic furniture as well. This rather does a favor to them, the crochet runners and chair covers hide and camouflage many rustic scars on the surface of the furniture and gives it a totally new life.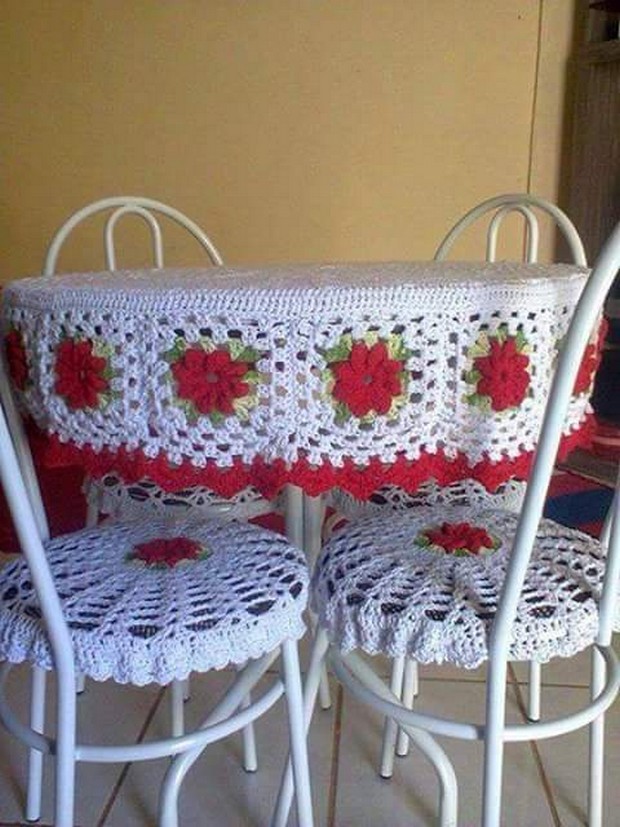 Just look at the fineness of the work where the flowers seem to be actually freshly cut from the garden and placed. They just lack proper aroma which is something beyond access otherwise no stone is left unturned in giving perfection to this crochet product.

You can always try these crochet made runners and chair covers on all furniture types, especially the one which are on the decay and you have the intentions to replace them with the new one the near future time. I think once you have covered them with crochet stuff, you could really think about altering your plans of replacement.