Okay ladies, I really have got no idea that why exactly I am having a strange feeling as if you are bored of making sweaters and booties with the crochet and now you want to do some stuff that is completely related to the place where you spend the most of your time. Yes I am talking about the kitchen girls. Do you really want to make or crochet something especially for your kitchen to give an impact of your smartness and your potential skills? Want to impress others with the God gifted stuff you have got in yourself within? Try these crochet kitchen décor ideas.
To begin with this wide spread covering sheet, we have designed this crochet cover for your kitchen installations. This crocheted piece would wrap it entirely and would prevent it from unwanted dust particles and would also add a lot to the décor of your simply arranged kitchen.

Have a distant look of the kitchen where everything seems to be covered with the knitted material all around. Like the microwave oven has got its own separate cover, then a number of utensils are wrapped up into crochet covers and the entire kitchen shelves are also covered with the knitted stuff.

Now talk a bit about the color scheme of the threads used in here and also a bit about the stitch pattern. We have mainly used the dull white thread as the base color, and along with that two more shades are prevailing in the entire project.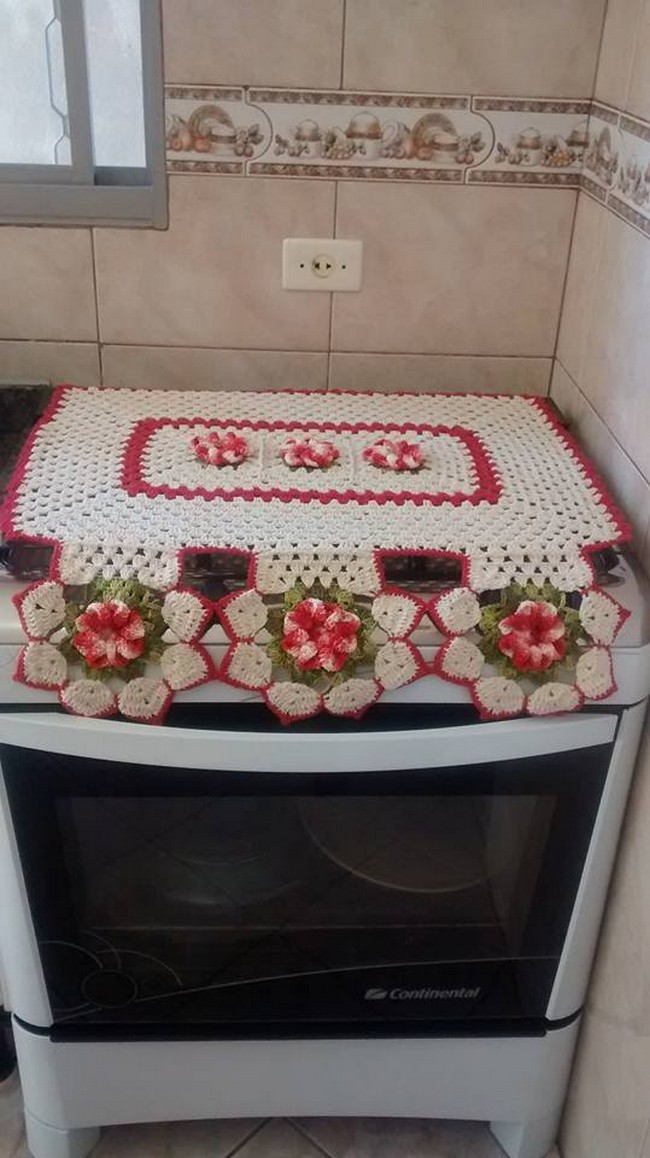 Even the kitchen shelves are not kept from the crochet work. We have designed the crochet cover for each separate layer and also arranged for a mason jar to be placed on it as a decorative measurement. All such tiny moves could escalate the interior décor of your kitchen with such cheap resources.

These crocheted wraps or the sheets would render your kitchen a neater and cleaner look. This would compel you to place everything at its specified area and would eventually prevent a messed up look inside the kitchen. Although the whole project is a bit time consuming but in the end it is all worth it.

Last but not the least we have also got a spread for the dining table that is placed right beside your kitchen enclosure. We have designed here again the matching knitted spread that covers the whole of the table top.

Created & Shared by: Katia Lúcia