10 Free Crochet Bag Patterns
Sometimes I just wonder that why the ladies are so damn obsessed with the accessories like jewelry, make up and hand bags etc etc. but this would be so naïve of me if despite of knowing the fact that all the ladies always seem desperate to look different and adorable, I would deem to be curious about this fact. I mean it is just as simple as saying like two plus two makes four, they want to look gorgeous. So, all the aspiring ladies here I have gathered a very scrumptious collection of 10 free bag patterns that you are literally going to love.

# 1
I am beginning with the presentation of this smart hand bag that is certainly crocheted with some adorable shades, plus if we ponder upon a certain pattern that is used over here, this seems to be inspired from the dull Afghan inspired crochet pattern. The good thing is that the whole hand bag is knitted with yarn and no additional support is taken from some other accessories that are usually reclaimed or taken from the market. So just two different threads are used in all the bag knitting. It has got so much space inside it.
# 2
Wow, sometimes I just feel that this is the perfect art medium that we have chosen this time for our crazy experiments. The crochet or the knitting is such an art that can literally make the wonders happen. Sometimes we just come up with some creations that leave us speechless. Just look at the beauty and sophistication being reflected by this crochet beauty. A simple silken strip is crossed through the bag while the rest of the structure is entirely knitted and no other accessory is again put to use here. The design and shape is also fabulous.
# 3
Okay, here is a bit too large hand bag that is probably a bit unusual yet you must not get disappointed as such huge hand bags are very much in fashion now days as you ladies know this much better than me. So actually this is not going to be a mere hand bag that would just carry a couple of your accessories but it has got a full space where a number of other shopped accessories could also be stuffed inside. Three shades are used in this hand bag. And the free style pattern is mainly applied to the whole project.
# 4
Hang on, who said that these hand bags are mere bunch of formal and traditional designs, like we have also got here a very casual sort of hand bag like looking thing that has got a plenty of space inside it. Look at the handle or the chain. This also looks more like a hand carry or a luggage bag too. One single shaded thread is used throughout the bag, except a minor touch in the chain or the string. So this is something that is different from the traditional hand bags for sure, it would look much attractive as compared to the other hand bags.
# 5
And here comes something that is so gorgeous, this pair of the knitted hand bags is again crocheted. From none of the angles or the aspects they are inferior to the market oriented hand bags of any brand. Look at the laces and brooches that we see on the front of the hand bags? Don't they really look pretty awesome? Well, all of these supplies and embellishments are discussed in detail in the tutorial right below each different project. So from there you are going to grab the whole plan.
# 6
Do you see this beautifully knitted hand bag displaying an Afghan inspired crochet pattern with relatively dull shades? I think these patterns have really done a great job even in the hand bags too. A simple wooden piece is used as the locking knob of the bag. Except that the whole stuff is related to the crochet and knitting stuff. This is a pretty spacious bag where you have got the whole freedom to stuff inside the accessories that you have shopped or you have to carry along like make up, jewelry etc etc. so get in detail and enjoy this beautiful hand bag pattern.
# 7
Now get indulged in the charm of something typically traditional crochet stuff. Like the very first impression about this hand bag is like, it is lively, full of colors, some embellishments like metallic caricatures and some stones are also studded in the crocheted bag. It has got a very pretty and stylish handle that makes it easy to carry the bag. Thick double stitch pattern is used throughout the bag. And the best thing about this bag is the combination of the colors. so it would give a very lively impression of you when you carry it.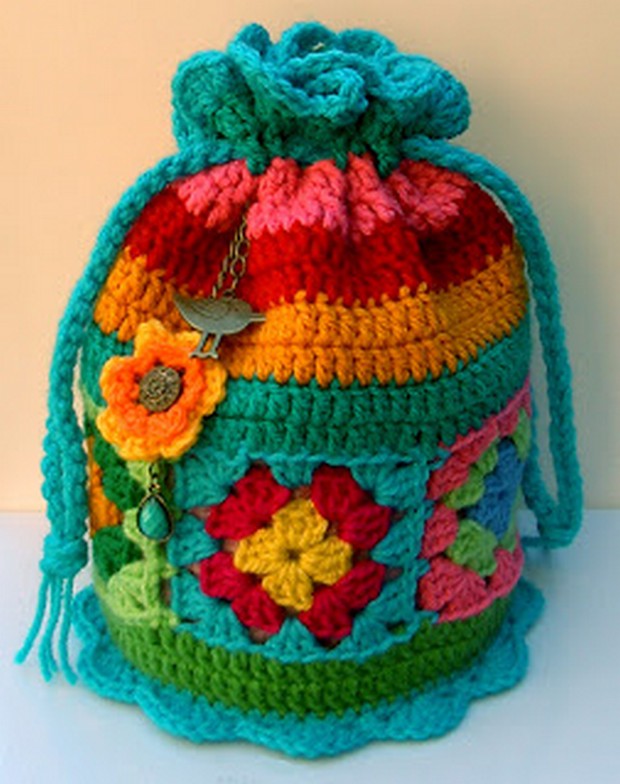 # 8
And now what about this one? I guess it is a lot more stylish than the rest, it has got the colors which add more to the style and attitude of this smart crocheted accessory. It has got a very beautiful free styled design that renders it a lot of space for carrying a large amount of accessories. Plus it has got a frontal pocket that is made with multiple crocheted strings. I think this would be a perfect choice to carry on some formal events. So hurry up, the whole plan waits for you right below given in the link.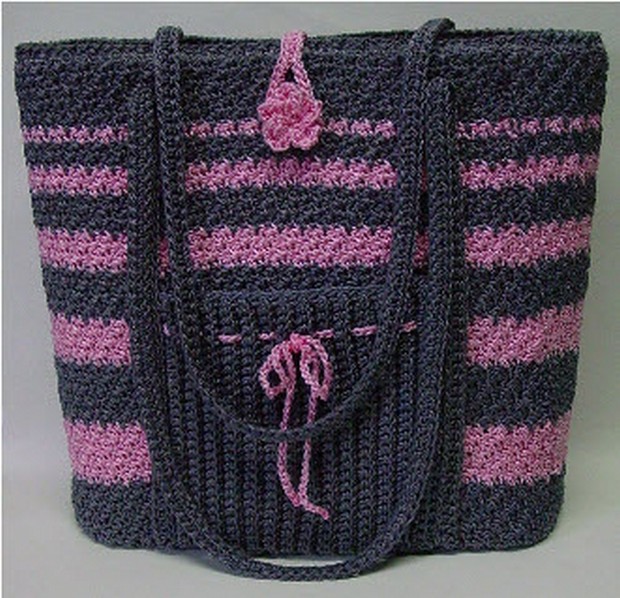 # 9
I think this is the age of style and fashion. That is why this sort of large hand bags are getting trendier. The world of fashion is switching from the traditional small clutches to these huge hand bags that are always very generous with the available space. So this escalates the feature of utility to a great extent. I don't think that you have got any reason to keep from this hand bag that is so smartly crocheted. Stitch to stitch detailed plan is demonstrated in the detailed tutorial given below the bag so just explore it and enjoy it.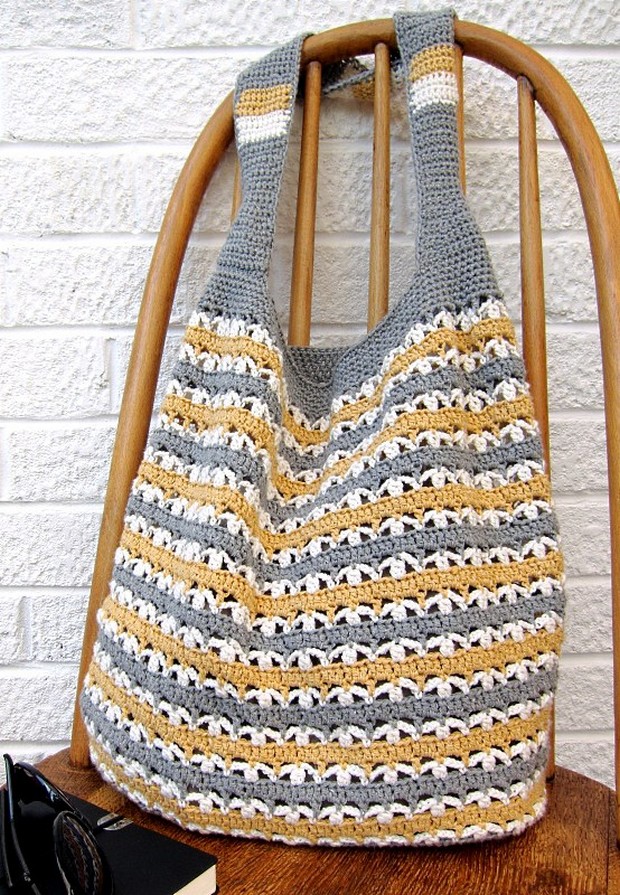 # 10
And please let me end this article on this cute small traditional hand bag that is more like the typical crocheted stuff. It has got a wave of multiple colors that add a lot to the beauty of the bag. The cane made handles are also elaborated here in the tutorial that from where exactly you are going to fetch them actually. All of these hand bag patterns that are crocheted are demonstrated in actual terms so this whole range is going to be pretty exciting for you ladies. Just make your pick and start working on it without any unwanted delay.