Perfect Crochet Rug Patterns
Almost each one of us is concerned with the home décor ideas and we leave no stone unturned in the pursuance of the further beautification of our homes with additional home décor plans. Well, if we talk about these décor plans they have got no limit like you can try various things and ideas. But meanwhile we have explored something very unique which is at the same time very scrumptious and handy too. Yes, we are talking about knitted or crocheted rug patterns. Here I have brought you guys some of the most perfect crochet rug patterns, have a look on them.
# 1
From the very beginning of this platform that especially dedicated to the crochet lovers, we were receiving massive requests where the folks wanted the actual patterns. So from now to onwards we are focusing a lot on the provision of proper patterns just like this one. Here we see a very nice artistically crocheted light pink shaded rug that is ideal for any part of the house. We see very thick thread being used in this rug so don't get worried we have got the entire details along with the demonstration right below the crochet project.
# 2
This crocheted rug is placed in the room having the dull wooden flooring which has literally escalated the prominence and beauty of this knitted rug. It has got multiple shades of thread and each one of them belongs to that certain kind which is excessively thick and is especially meant for such gigantic creations. You must be thinking about the hooks too that are used in the execution of this specific project, we have got the whole elaborated long detail of the project in the given link that would guide you throughout the whole project so better try it for yourself.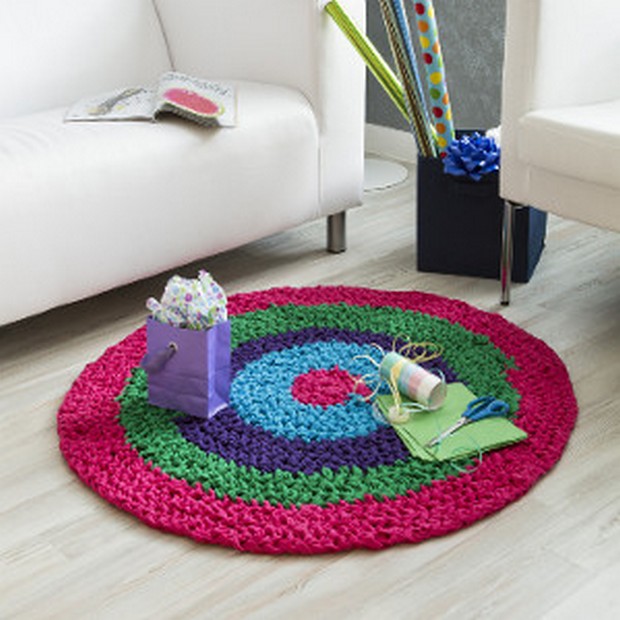 # 3
This wavy curvy crocheted rug seems to be inspired from the afghan patterns that are known for their specific color combinations and shocking shades normally. It has got a very sensible color choice where we see some darker shades being employed with some light toned shades to nicely balance the color combination and neutralize the shocking shades. As far as the curved design of the rug is concerned, it is a sort of classic piece of crocheted work. Stitch pattern that is executed here is quite balanced mostly using the double stitch pattern here. Try it in some outdoor areas.
# 4
Okay, here we see something purely domestic sort of stuff like this one seems to be made for the bathroom entrance area. And it has got no difficult patterns at all, It normally follows the basic circle pattern that is quite familiar for the ones who have been very much into the knitting projects and activities. But again the yarn that is used in here makes it pretty super knitted thing, and we have got each and every detail of this rug chalked out in here with the detailed stitch pattern plan as well so this is going to be pretty handy.
# 5
Now this is something different from the last one, as this is a round and round rug pattern which is a bit unique and a bit tricky too. But you just don't need to get worried about all these technicalities because we have already sorted them out for you ladies. Although it is going to be a little time consuming but trust me in the end it is going to be a huge achievement when you are done with it. Want to know about each and every detail concerned to this? Have a glimpse of this all right inside the detailed tutorial.
# 6
Okay, here is a country crocheted rug pattern that is consisting the same sort of the material that we needed for the earlier ones. A rug is something that can make its place in any part of the house. It has got a number of potential benefits that could be explored once you start using it practically. It has got almost 25 and a half inches diameter excluding the length of the fringes. While the fringes are also the part of the same knitting work detail of which could be found in the link given below the project.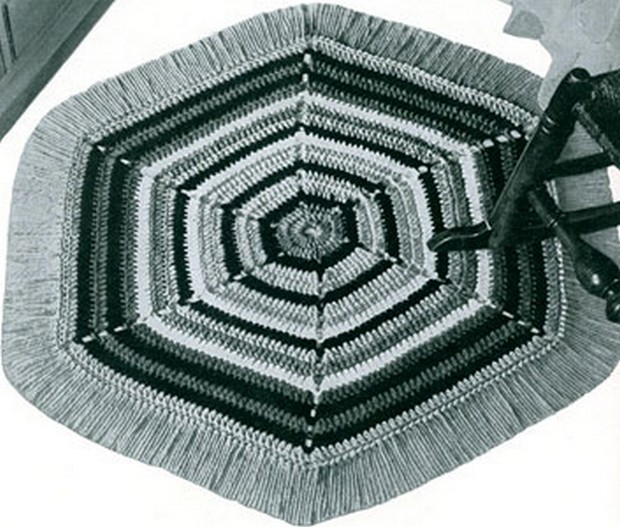 # 7
And here is something that seems more of a traditional stuff like this could be named as the daisies rug pattern having little flowers carved on the entire surface of the crocheted rug pattern. It has got a very classic color combination where we see a dark shade being mingled with the lighter toned shade so that the shocking impression is neutralized sensibly. Cotton yarn is basically used in making this particular rug, and looking at the design we can comprehend that it would look awesome in the entrance area of drawing room or the lobby area.
# 8
Here we have got something very special for the ladies, this is a gorgeous Mandala floor rug consisting of very charming shades that have added a lot to the beauty and the liveliness of this crocheted project. As you can see from the closer look that again the yarn used here isn't the regular stuff, yes this is absolutely right. This knitted beauty is crocheted with the T shirt yarn that would be a bit strange for the many among you if you are new into this. So opt it if you like the stitch pattern and also the color scheme along with the certain texture of yarn.
# 9
Before getting indulged into the details just pass a generous look and spare a moment to applaud the efforts of our fellow crafters who burn their midnight's oil to bring you such awesome pieces of inspiration that really give you a massive push forward and compel you to try out such crazy experiments. This bachelor's button rug consist of very charming colors that have rendered it a very dashing look and basically this is a real grabber. No matter where you place it, it would grab all the praises and admiration from all the visitors.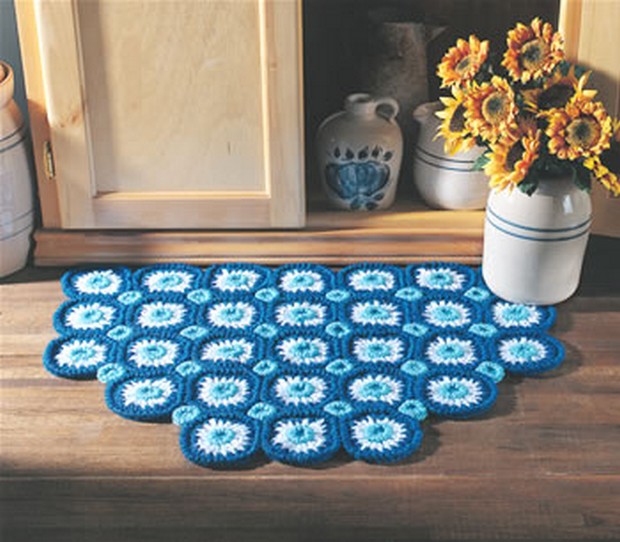 # 10
Wow, this textured wave rug seems to be inspired from the sea shades. This is a very nice color combination that gives a perfect impression that is so soothing and flawless to the optics, but still let me maintain that this is purely your very own prerogative to opt for the color combinations that suit your choice or may be match with the rest of your room interior. This is always advised to use a non slip rug pad for the safety purpose and also for the extra cushioning as well. Enjoy this fabulous art work.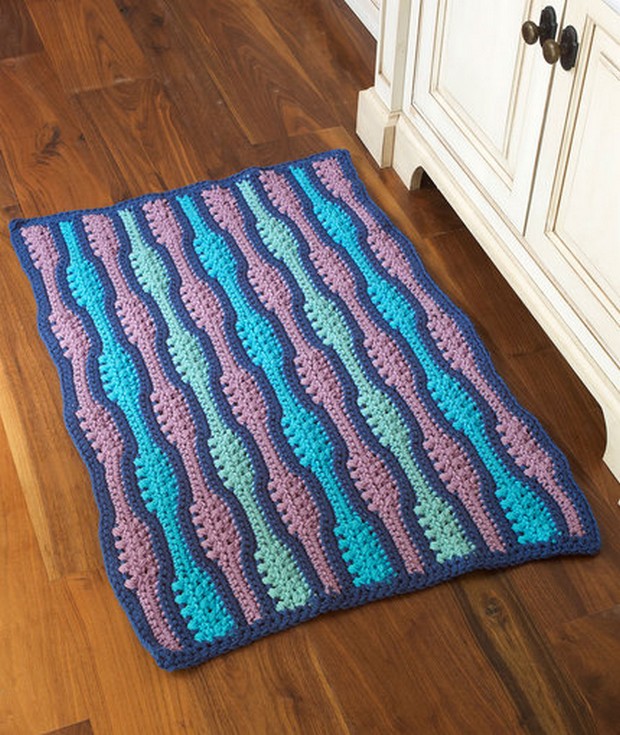 # 11
And here last but not the least we have got a rug that is over stuffed with differently shaded threads, that is why this could be named as shaker inspired rug that is purely crocheted with differently shaded threads or yarn. This is so attractive and full of colors that this can be placed anywhere inside the house, I would rather argue that it would make a better appearance if placed outside the kids bedroom, they would be even happier with thus colorful creation and would simply love it. Want this for your kids right now? Go and explore the whole plan that we have brought you right below the project in the given link.