Crochet Creations of Galia Karaulanova
Apart from killing the time in a very effective and constructive manner, the crochet creations also provided us with the best accessories that could be matched with any high quality market oriented expensive ones. This spree of crochet persuasion has brought us so far that we are getting indulged in countless finely knitted accessories that are being applauded and appreciated by our fellow subscribers. Galia who is a renowned and distinguished crochet crafter has really earned a name in this art. We have brought you here some of the knitted crafts by her that we hope you would enjoy to witness and try.
We see the mixed sort of knitted creations being offered by her like this smart crocheted top in very charming shades is meant to redefine your fashion and appearance. This could be matched with any expensive classy top that we expect to buy from the market.
While this one is a very exquisite package of accessories especially for the baby girls that are centre of our love and passion. This comprises of a very beautiful frock along with very cute tiny booties that are so adorable and would prove to be one of the best presents for her.

Nevertheless a crocheted sweater would be a great option to work on for your baby girls. This is a very smart and attractive sweater made out of some of the dull shades that are a bit too typical for making such traditional stuff. The floral border on the arms is more of a classic appearance.

I am really loving these cute tiny trainers. Like they are made out of some very unusual thread shades, they give more of a sporty impact for your little infants. Not only this would fetch them best of the fashion statements but would also protect the feet from getting cold.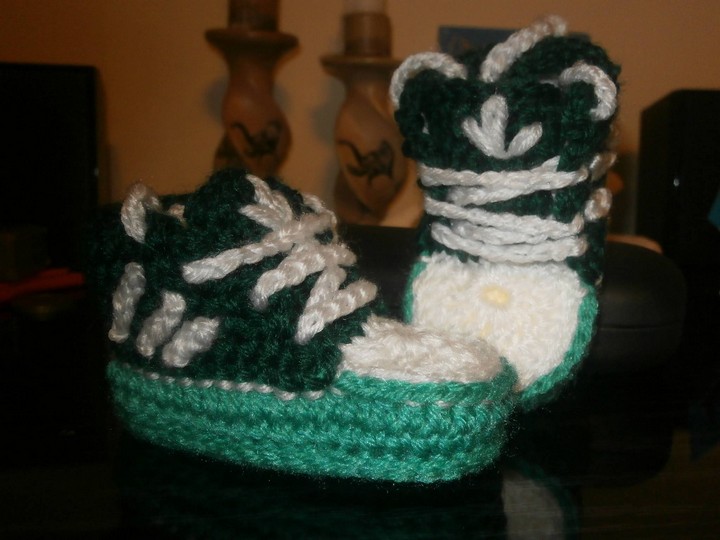 Now bear to pay some heed to this particular crocheted accessory that is a very finely knitted frock. It has goy a very smart brooch right on the front, made with just a couple of crochet threads, this is one of the finest crochet creations by the Galia.

Awwww… just look at the attitude of this little baby doll, she seems so contented and rather happy while carrying this smart crocheted top. Even the dull toned shades haven't impacted it negatively at all. Over all this proved to be one of the best tops among the rest.

This cute little chunky white top having mainly the bright white thread shade in the base of the top. Plus it has got a very soothing amalgamation of a couple of other thread shades and very nice crocheted buttons which have escalated the beauty of this already sumptuous crochet accessory.

And finally this gorgeous partially crocheted top is a whole wide fashion statement to make you feel the warmth of the thread and the charm of the knitted art craft. Carry it with some smart tights or maybe jeans whatever you like, stay stuck to the color combination for a fine touch.

Shared & Created by: Galia Karaulanova